Union Minister for Women & Child Development and Minority Affairs, Ms Smriti Zubin Irani emphasised on eliminating child marriage from India by 2025 at the National Consultation on Child Marriage Free India organized by Kailash Satyarthi Children's Foundation on 20th February 2023.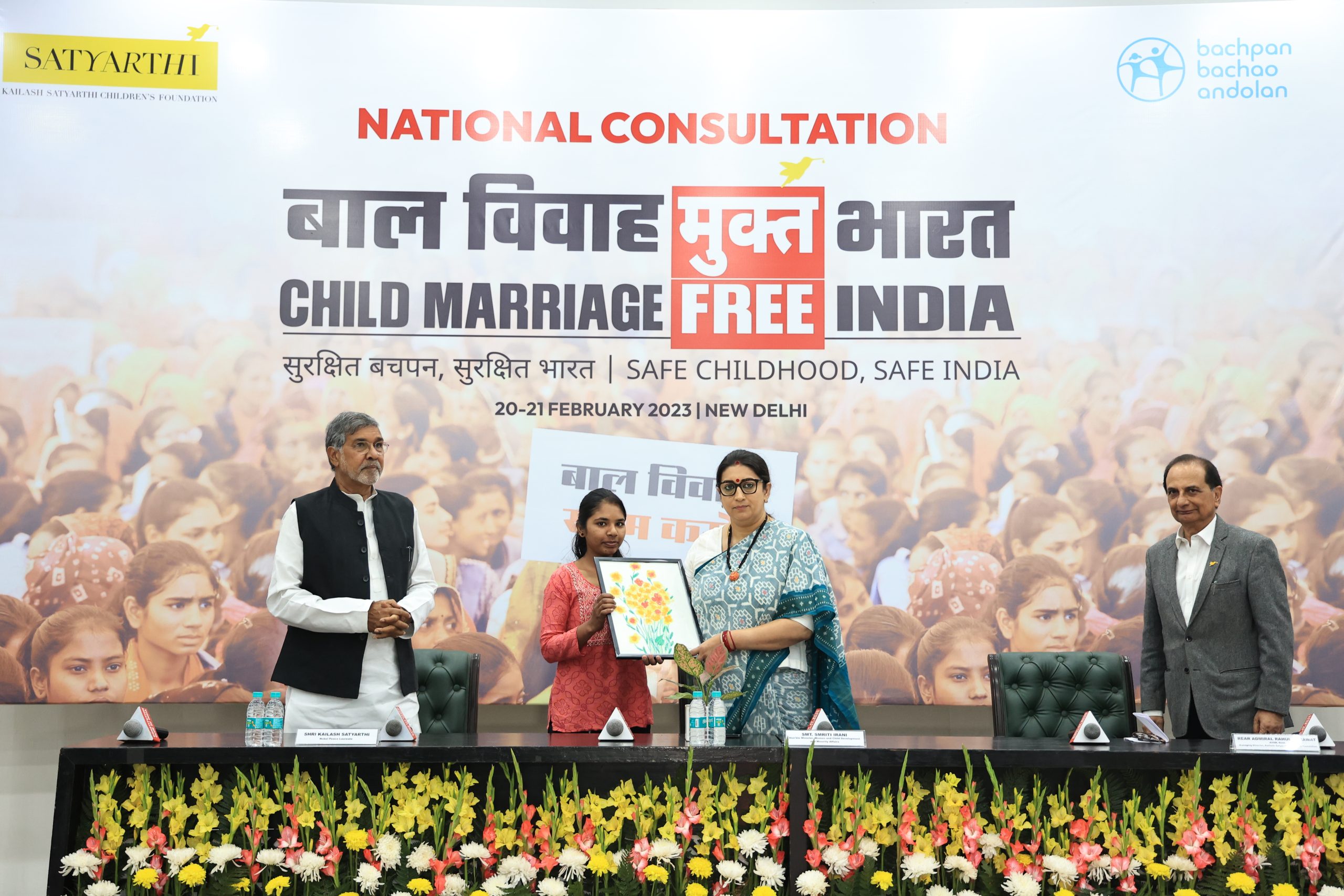 The consultation was organized following the Child Marriage Free India Campaign launched by KSCF on 16th October 2022. It was the country's most extensive campaign against child marriage led by over 76,000 women from across the country, which garnered the support of over 20 million people. Following this, action against child marriage started across the country on a war footing.
"Child marriage is a crime and we have to end it. We are not bereft of laws and policies. What we need is collaboration between citizens and government to eliminate child marriage," Ms Irani said during the event.
"Just like women showed leadership during the launch of the Child Marriage Free India campaign, it is time to focus on increasing the active participation of men as well. This would help in strengthening our fight against child marriage…You can continue to be assured of the government's support," she added.
The consultation focused on creating awareness against child marriage, along with highlighting the challenges faced in the fight against this crime. It provided a chance for representatives from various national and state-level agencies and Civil Society Organisations (CSOs), who work on child protection, to come together and prepare a strategy to combat child marriage and address the field-level gaps.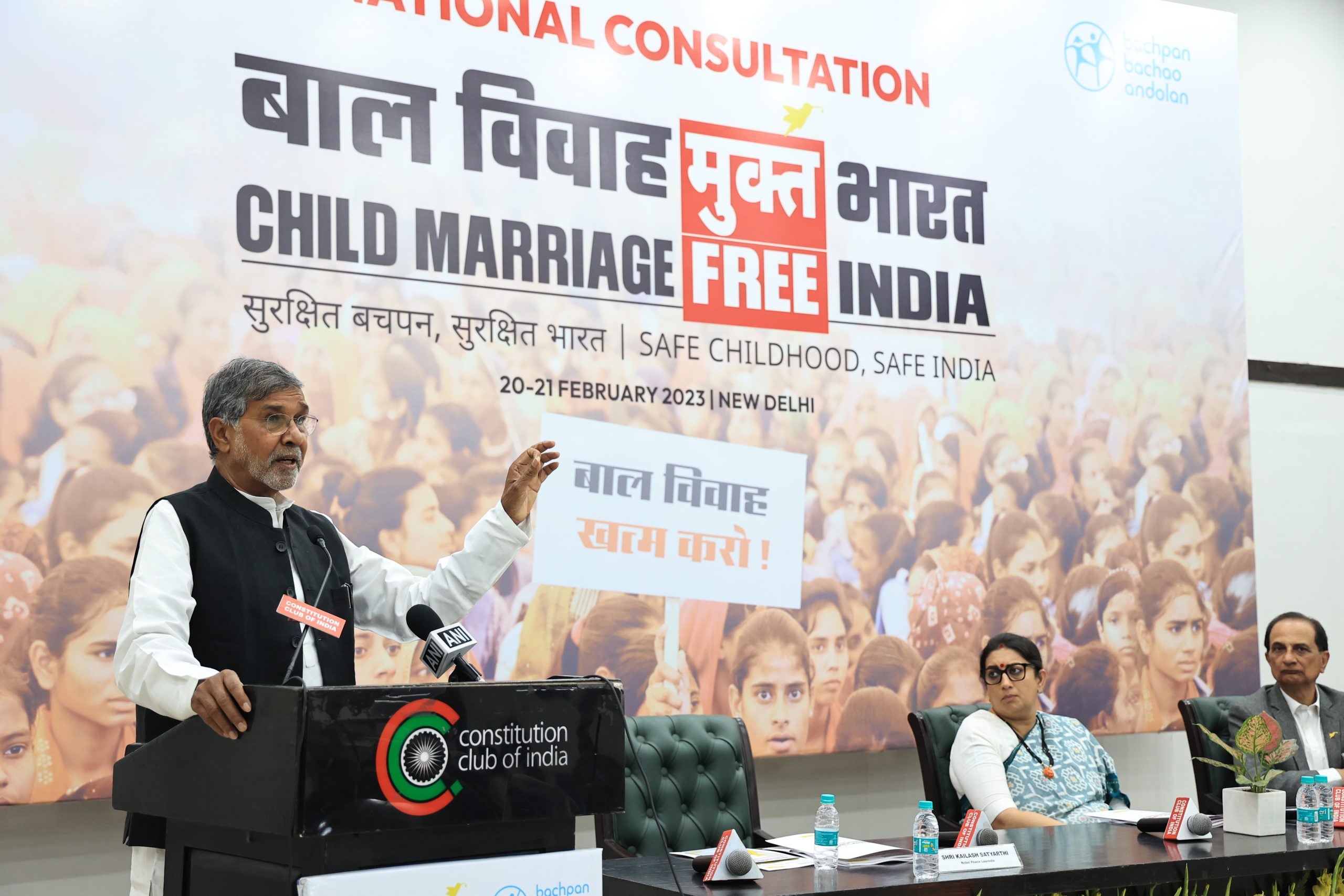 Speaking at the event, our Founder, Nobel Peace Laureate Kailash Satyarthi said, "Through today's event, we express our strong resolve to make India free from all forms of exploitation, especially child marriage…By 2030, we want to be the first country to become child marriage-free," Mr Satyarthi said.
He further added, "Child marriage is a cruel attack on human freedom, dignity, social morality, equality and inclusiveness. We as a country need to take proactive steps to provide victims with financial assistance, legal support and rehabilitation. We demand from the government and all political parties to promote the education of children, especially girls, by increasing the age limit of compulsory free education to 18 years."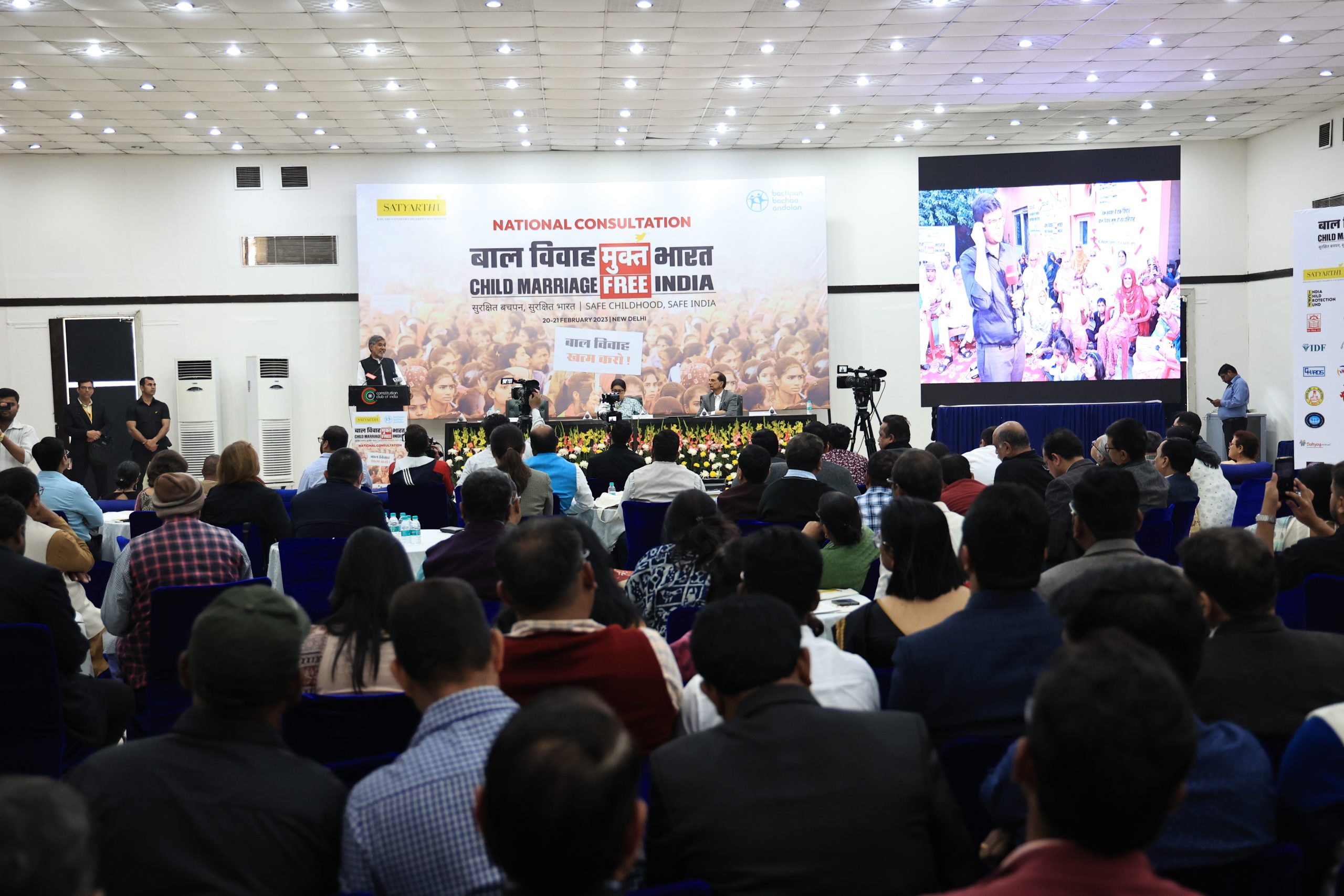 NCPCR Chairperson Priyank Kanoongo also graced the occasion and summed up the session by sharing his valuable suggestions on combating child marriage. "Child marriages, child trafficking, and child sexual abuse are interlinked offences as trafficking is often done for child marriages, and child marriages are nothing but a means of child sexual abuse," Mr Kanoongo said.
Chairpersons of various State Commissions for Protection of Child Rights also (SCPCRs) expressed their views on the challenges & strategy planning for making India child marriage-free during panel discussions at the consultation.
The Managing Director of KSCF, Rear Admiral Rahul Shrawat, applauded and felicitated the child activists at the event, who not just stopped their own child marriage but continue to fight against this evil practice everyday.
Key Takeaways from the Consultation
During the consultation, it was discussed that ,going forward, we need to strengthen the fight against child marriage by:
Ensuring that not just girls but the entire community, including religious leaders, take a stand against child marriage
Promoting education for children, especially girls, by increasing the age limit for compulsory and free education to 18 years
Taking proactive steps to provide victims of child exploitation with financial assistance, legal aid, and rehabilitation support
Working to adhere to laws in letter and spirit
Urging state governments to replicate measures adopted by the Assam government to strengthen our fight
Ensuring strict implementation of Compulsory Registration of Marriage Act to monitor the occurrence of child marriages
In Media