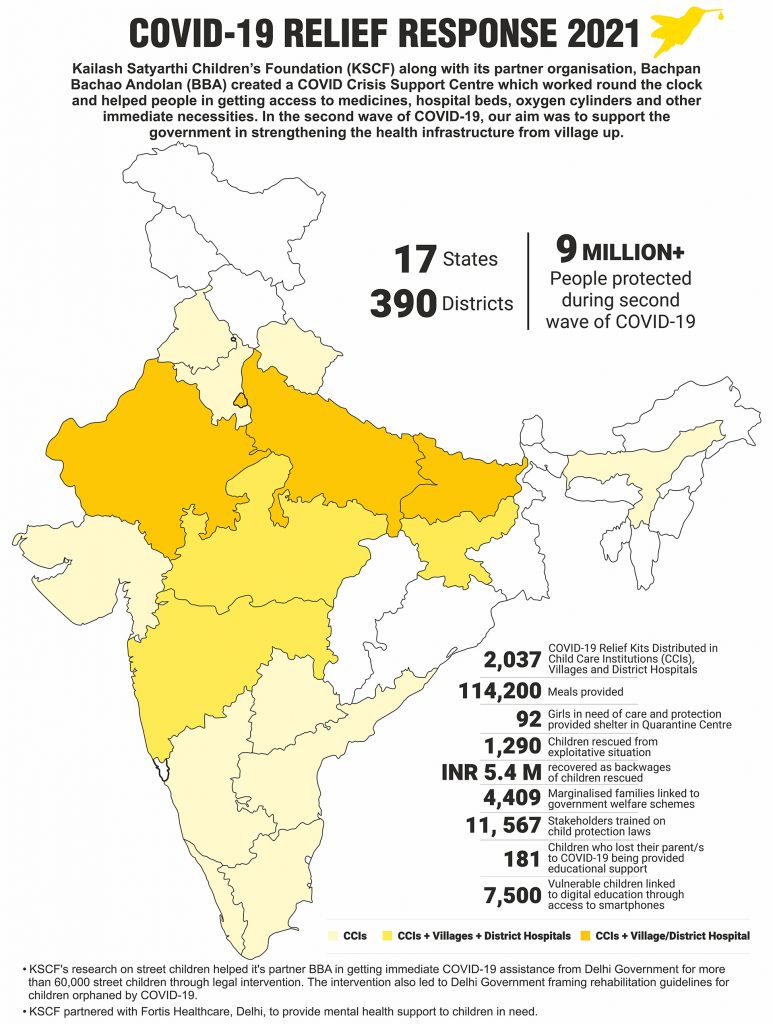 During the 2020 lockdown, Kailash Satyarthi Children's Foundation (KSCF) and its partner organizations provided:
5,000,000 meals in 20 states
Over 35,000 protective gear including Personal Protective Equipment (PPEs) and sanitization kits
Support to 32,000 families for prevention of trafficking
Support to 10,000 rescued child labourers for prevention of retrafficking
As our teams on ground continue to fight the virus, we ask you to do your bit to tide through the crisis.
India is going through an unprecedented crisis.
We are in the midst of the second wave of the catastrophic COVID-19 pandemic which has put an enormous strain on the medical infrastructure.Today, India accounts for 1 in 5 active cases and 1 in 16 deaths globally. It has 18.83% of the total active cases across the world and is the second among the most affected countries by active cases. With cases hovering above the 400,000 mark on a daily basis, the acute scarcity of oxygen, medical supplies and calls for help are only adding to the utter sense of despair and helplessness.
Children, especially, have been hit hard by the second wave of the pandemic. 80,000 children were infected between March 1 and April 4, 2021, in the five worst-affected states of Maharashtra, Chhattisgarh, Karnataka, Uttar Pradesh and Delhi according to the Home Ministry of India. There are many others have lost their parents, are in exploitative circumstances and are susceptible to abuse.
Principal Scientific Adviser to the government K Vijay Raghavan has said that the third wave of the virus is inevitable. Experts believe that the third wave of virus is likely to affect children more.
Fighting the COVID-19 crisis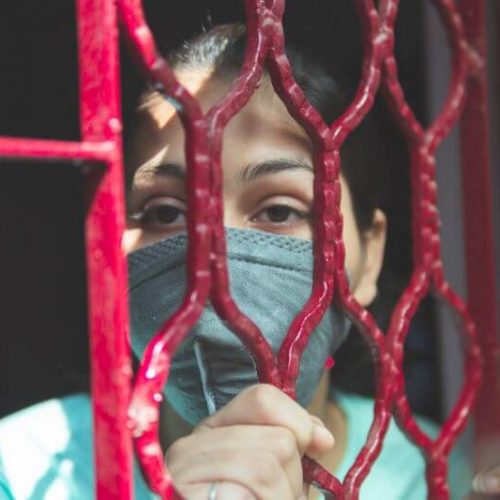 Kailash Satyarthi Children's Foundation has initiated a COVID-19 Support Center to reach out to vulnerable children  in rural India and urban slums through our programmes Bal Mitra Gram™ and Bal Mitra Mandal respectively and also in children's homes. Our teams are working on ground to support children and communities with essentials required for their safety and creating awareness on plasma donations. We are also closely working with State Commissions for Protection of Child Rights (SCPCR) for the same. 
Through the support center's helpline number 1800 102 7222, we have already received over 300 SOS calls for supporting orphaned children, medical care, missing child complaints, reporting child sexual abuse cases in a span of a week. Our team is working round the clock to extend help but we cannot do this alone. 
Help us help these children and communities.
Join Hands with us to help fight this crisis
Long Term care for children who have lost their parents
The pandemic has several impacted children across the country. We are working to identify children who have either lost their parents or have nowhere to turn to as both the parents are hospitalized or unable to take care of the child. 
We aim to provide immediate and long term care, which includes education, medical aid etc. in schools with hostel facility, or children's homes, including Mukti Ashram (Delhi) and Bal Ashram (Rajasthan), which are shelter homes run by our sister organisation. 
* You will be redirected to our fundraiser on Ketto.org which is a secure website
Urgent Support To Children's Homes and CCIs
Children living in  Children's Homes or Child Care Institutions (CCIs) are highly vulnerable to the pandemic. India presently has 77,765 children in 2,162 Child Care Institutions (CCIs). The national capital of Delhi itself has 41 CCIs with over 1,986 children who urgently require our support. 
Through our program, we will distribute essential COVID-19 Relief Kits  to 50 Child Care Institutions (CCIs) catering to over 2500 children in Delhi-NCR where children in need of care and protection are provided shelter.
* You will be redirected to our fundraiser on Ketto.org which is a secure website
Help For Vulnerable Rural & Urban Slum Communities
Poverty ridden families in urban slums and rural communities who have lost their livelihoods due to the pandemic, cannot afford preventive protective gear and basic medical supplies to keep their families and  children safe. 
Through our program, we will distribute essential COVID-19 relief kits  to 100 villages and 10 urban slums across the country to address their immediate medical needs. The kits will also enhance their hygiene, boost their immunity which in turn will help break the chain of spread of the virus.
* You will be redirected to our fundraiser on Ketto.org which is a secure website
If you come across a child who requires immediate attention, please call 1800 102 7222
With your support, KSCF and its partners have:
Distributed COVID-19 relief kits comprising an oxygen concentrator, pulse oximeters, infrared thermometers, nebulisers, vapourisers, essential medicines, PPE, sanitizers, masks and gloves to 28 Child Care Institutions and open Shelter Homes for Street Children, along with facilitating medical and counselling support
Set up a 20-bed quarantine centre for girls at Mukti Ashram Children's Home equipped with all necessary medical facilities
Distributed 12 COVID-19 relief kits to 4 urban slums in Delhi
Distributed ration and medical supplies to vulnerable children across the country
Precautions to prevent the spread of COVID-19