KSCF - Play Games24x7 Partnership
369 villages of Maharashtra and Madhya Pradesh Receive COVID-19 Relief Kits

The second wave of the COVID-19 pandemic brought forth unprecedented challenges like shortage of hospital beds, oxygen cylinders and lifesaving drugs, thus laying immense stress on the health infrastructure of the country. The impact of the second wave was not just restricted to bigger cities but also the rural and far-fetched areas of the country, highlighting the need to strengthen the health infrastructure from village – up.
The Kailash Satyarthi Children's Foundation collaborated with Play Games24x7 Pvt. Ltd. to augment the existing COVID-19 care facilities in the district hospitals and in the villages of Maharashtra and Madhya Pradesh.
Accordingly, the efforts were supplemented through the distribution of COVID-19 relief resources such as oximeters, oxygen cylinders, oxygen concentrators (or infant incubators or other medical items as required by the district hospitals), masks, sanitizers, Personal Protection Equipment (PPE) kits, gloves, etc.
With help of partner NGOs and Districts Administration of Madhya Pradesh and Maharashtra, KSCF identified 369 villages where support was provided. 150 villages in 5 districts of Maharashtra and 219 villages in 8 districts of Madhya Pradesh where supported under the KSCF and Play Games24x7 Pvt Ltd collaboration.
A national launch event was organized in Newari district of Madhya Pradesh with the Union Cabinet Minister, Dr. Virendra Kumar Khatik, Ministry of Social Justice and Empowerment as the Chief Guest.
In the event, the Minister praised KSCF's efforts towards protection of children during the pandemic. Representatives from the District Administration were invited as guests of honour, and village heads of Gram Panchayats were present to receive the kits.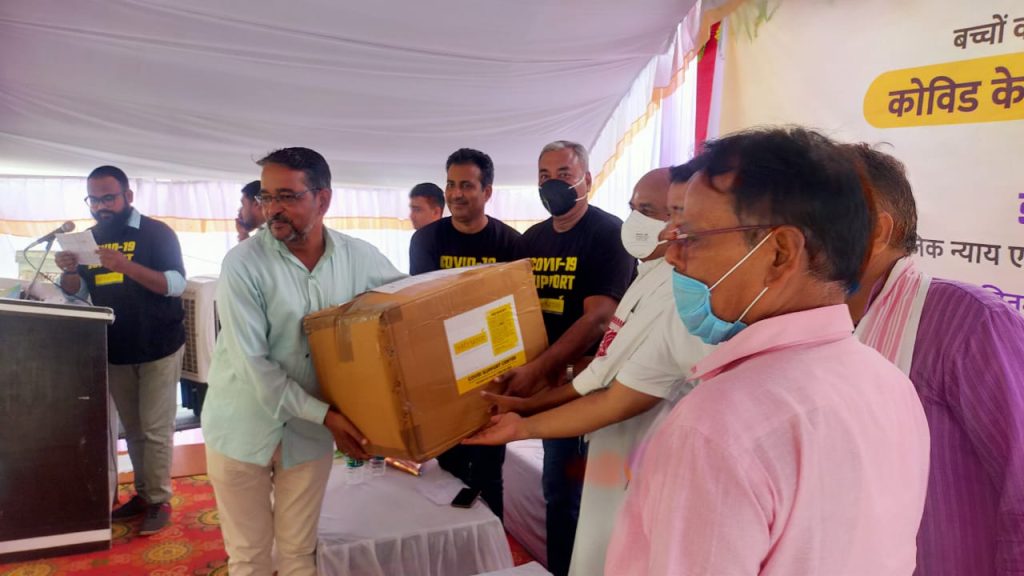 "The efforts of Kailash Satyarthi Children's Foundation in helping the children and the marginalized during the COVID 19 pandemic are commendable. From time to time the foundation has extended its support to me as well as my Ministry in understanding various issues."- Union Cabinet Minister, Dr. Virendra Kumar Khatik, Ministry of Social Justice and Empowerment.