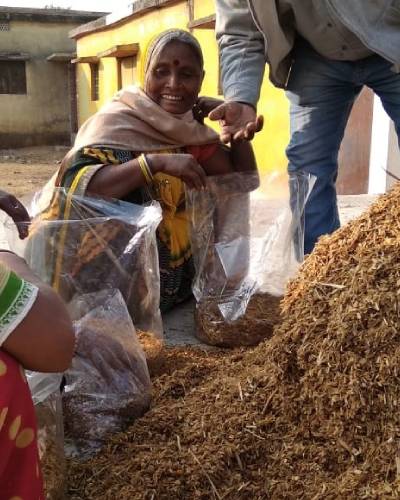 1. How is Kailash Satyarthi Children's Foundation working on livelihood programs?
An innovative and transformative grassroots solution to prevent child exploitation, the Bal Mitra Gram (BMG™) in villages undertakes relevant livelihood programs with adults in villages, as a means to strengthen their income and further prevent the use of child labour. For the same, the model integrates activities such as vocational training programs, good agricultural practices, encouraging traditional arts, animal rearing practices, setting up small enterprises etc to augment family incomes and ensure that children can continue with their education and are not sent to work as child labour. 
2. What is livelihood?
Livelihood is a means of making a living. It encompasses people's capabilities, assets, income and activities required to secure necessities of life. A livelihood is sustainable when it enables people to cope with and recover from shocks and stresses (such as natural disasters and economic or social upheavals) and enhance their well-being and that of future generations without undermining the natural environment or resource base.
3. Who and how many people are affected by lack of livelihoods in rural India?
The giant strides that India has made in economic growth has no doubt helped to reduce the percentage of people below the poverty line. However, over two-thirds of India's population still lives in rural and semi-rural areas, where there is a daily struggle to earn enough from farm-related activities to feed the household.
Families in rural areas find it tough to break out of the cycle of poverty, primarily because a majority of Indian agriculture-based incomes continue to be dependent on the monsoons. Additionally, poor soil conditions, minimal use of modern farming methods, lack of systematic irrigation facilities, absence of post-harvest facilities and sustainable market linkages combine to put farm-based income generation capabilities in jeopardy. 
Further, most of the youth are leaving the villages in search of livelihood options in bigger towns and cities and ultimately land in urban slums and live a miserable existence in the process, desperate to feed their families back home. 
4. What can I do to support?
Donate to our program on livelihood

Help us in creating livelihood opportunities

Follow us on social media

Raise awareness amongst vulnerable communities on increasing income sources for adults and preventing child labour and other child exploitative practices