A study by International Labour Organisation (ILO) shows there are an estimated 152 million children involved in labour across the world. Of these, 72 million are involved in hazardous work.
World Day Against Child Labour is observed on June 12 every year. This year, the unfortunate COVID-19 pandemic has gripped the world, claiming millions of lives and leaving millions other vulnerable. The economic uncertainty following this pandemic is likely to push many more children into forced labour, at the same time pushing the existing 152 million child labourers into even more difficult circumstances, and longer hours of work.
With this concern, the theme for World Day Against Child Labour 2020 has been set as, "COVID-19: Protect children now more than ever."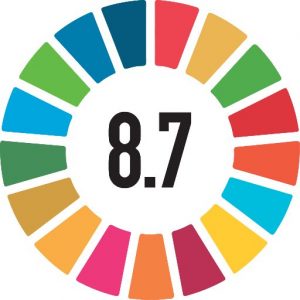 Adopted by all Member States of United Nations in 2015, the Sustainable Development Goals (SDGs) are a universal call to attain global peace and prosperity by 2030. The SDGs include attaining 17 integrated goals by all the countries – developing and developed – in the said time.
SDG 8.7 is a call to eradicate child labour globally by 2025.  It resolves to "take immediate and effective measures to eradicate forced labour, end modern slavery and human trafficking and secure the prohibition and elimination of the worst forms of child labour, including recruitment and use of child soldiers, and by 2025 end child labour in all its forms."
The reality of child labour in India and world
In India 10.1 million children are involved in labour, of which 5.6 million are boys and 4.5 million are girls
Globally, 218 million children between the age of 5 and 17 are employed. Of these, 152 million are victims of child labour and almost half of them, i.e. 73 million, work in hazardous conditions
Among 152 million children in child labour, 88 million are boys and 64 million are girls
Almost half of child labour, i.e. 72.1 million is found in Africa; 62.1 million in Asia and the Pacific; 10.7 million in the Americas; 1.2 million in the Arab States and 5.5 million in Europe and Central Asia
1 in 5 children in Africa (19.6%) is in child labour. Prevalence in other regions is between 3% and 7% with 2.9% in the Arab States (1 in 35 children); 4.1% in Europe and Central Asia (1 in 25); 5.3% in the Americas (1 in 19) and 7.4% in Asia and the Pacific region (1 in 14)
Almost half of all 152 million victims of child labour are aged 5-11 years. 42 million (28%) are 12-14 years old; and 37 million (24%) are aged 15-17 years
Hazardous child labour is most prevalent in the age group of 15-17. Up to one fourth of all hazardous child labour (19 million) is done by children below 12 years of age
58% of all children in child labour and 62% of children in hazardous work are boys. Boys appear to face a greater risk of child labour than girls, but this may also be a reflection of an under-reporting of girls' work, particularly in domestic child labour.
Child labour is concentrated primarily in agriculture (71%), which includes fishing, forestry, livestock herding and aquaculture, and comprises both subsistence and commercial farming; 17% in Services; and 12% in the Industrial sector, including mining
Source: Census 2011 Child Labour in India
Global Estimates of Child Labour: Results and trends, 2012-2016 , Geneva, September 2017.