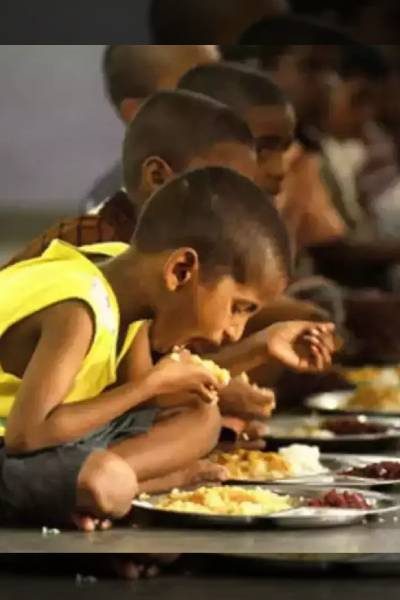 1. What is Kailash Satyarthi Children's Foundation doing to address this issue?
An innovative and transformative grassroots solution to prevent child exploitation, the Bal Mitra Gram (BMG™) model empowers children to take democratic actions to protect their rights, and enables parents and other stakeholders to stand up for the rights of children and build a protective community. A BMG™ thus creates a safety net around children to promote education and addresses malnutrition and hunger amongst children by empowering them to demand their access to government programmes and schemes such as Mid-Day Meal programmes and other programmes that prevent health diseases and ensures good child health in India.
2. What is malnutrition and hunger?
Hunger is the body's signal that it needs food. Malnutrition is not the same thing as hunger, although they often go together. People who are chronically malnourished lack the nutrients needed for proper health and development.
Children who are malnourished are more likely to get sick and, in severe cases, might even die.
Chronic hunger and malnutrition can cause significant health problems. People who go hungry all the time are likely to be underweight, weighing significantly less than an average person of their age. If malnourished as a child, their growth may also be stunted, making them much shorter than average. Child health & Child nutrition in India is important. Support us to save a children life. 
3. How many children lack nutrition in India?
India is home to 46.6 million stunted children, a third of world's total as per Global Nutrition Report 2018. Nearly half of all under-5 child mortality in India is attributable to undernutrition. 
Despite decades of investment to tackle this issue, India's child malnutrition rates are still one of the most alarming in the world. The Global Hunger Index (2020) — which is calculated on the basis of total undernourishment of the population, child stunting, wasting and child mortality — places India at the 94th spot among 107 countries.
4. Who is at risk of malnutrition amongst children in India?
People who are poor or who live in poverty-stricken areas are at the greatest risk. In poor countries, wars and natural disasters such as droughts and earthquakes also can contribute to hunger and malnutrition by disrupting normal food production and distribution. Malnutrition affects people of every age, although infants, children and teens may suffer the most because many nutrients are critical for normal growth and development.
Short maternal stature, extreme poverty, poor dietary diversity and mother's lack of education are among the top five risk factors for malnutrition in children in India.
5. What are the causes of lack of child health and child nutrition in India?
The crisis of child malnutrition in India has often been attributed to historical antecedents such as poverty, inequality and food shortage. A malnourished mother is also more likely to give birth to malnourished children.
Sixty per cent of them live in six states: Uttar Pradesh, Madhya Pradesh, Bihar, Rajasthan, Maharashtra and Tamil Nadu.
6. What are the laws that work towards ending malnutrition and hunger in India?
The National Food Security Act (NFSA) in India was passed in 2013 to remove hunger and reduce malnutrition. The Act provides 75% of the rural population and 50% of the urban population with a minimum entitlement of 5 kilograms of grain per person per month.
India's Nutrition Policy of 1993 was shaped on the basis of a detailed understanding of factors responsible for the occurrence of malnutrition. The policy called for adoption of a multi-sectoral approach and implementation of a wide range of measures to achieve the goal of optimum child health & child nutrition in India for all. Subsequently, numerous plans, programmes and missions were launched on various occasions. 
There is also the Integrated Child Development Services (ICDS) Scheme that has benefitted India's over 100 million persons including children, pregnant women and lactating mothers
7. What can I do to end malnutrition and hunger?
Donate for our work on ending malnutrition and hunger amongst children

Raise your voice against malnutrition amongst children

Follow us on social media and help spread the work about our work

Raise awareness amongst vulnerable communities on impact of malnutrition