Nobel Peace Laureate Kailash Satyarthi
Kailash Satyarthi Children's Foundation (KSCF) founded by Nobel Peace Laureate Kailash Satyarthi is a leader in child protection and child development. Building on the path-breaking work of Kailash Satyarthi, KSCF has been working for children's rights for the last 40 years. It envisions a world free of violence against children and works on an array of issues that affect vulnerable children and their families.
Childhood means simplicity. Look at the world with the child's eye – it is very beautiful. – Kailash Satyarthi
Kailash Satyarthi's Vision
Childhood is supposed to be the happiest part of a person's life but millions of children throughout the world have it snatched from them because of different malpractices against them. They are the most vulnerable to different kinds of exploitation.
Kailash Satyarthi is a globally recognized leader who has been working to end child exploitation from its roots. He is the second Indian to win Nobel Prize after Mother Teresa. He has been working for child welfare since the 1980s and is the founder of multiple organizations that have been working to improve the lives of innocent and vulnerable children throughout the world. 
Mr. Kailash Satyarthi envisions a world where the Youth realizes its truest potential as the agent of positive social transformation. It is for this reason he launched the 100 Million for 100 Million Campaign in December 2016. This campaign is a global intervention to mobilize 100 million youth for shaping a better future for 100 million children who have been denied their rights and liberties. 
To achieve his vision of a world free of violence against children – where all children are free, safe, healthy and educated, he founded Kailash Satyarthi Children's Foundation. The Foundation's raison d'être is to advocate for creation and implementation of child-friendly policies ensuring holistic development and empowerment of children across the globe.
Mr. Satyarthi Fighting Child Exploitation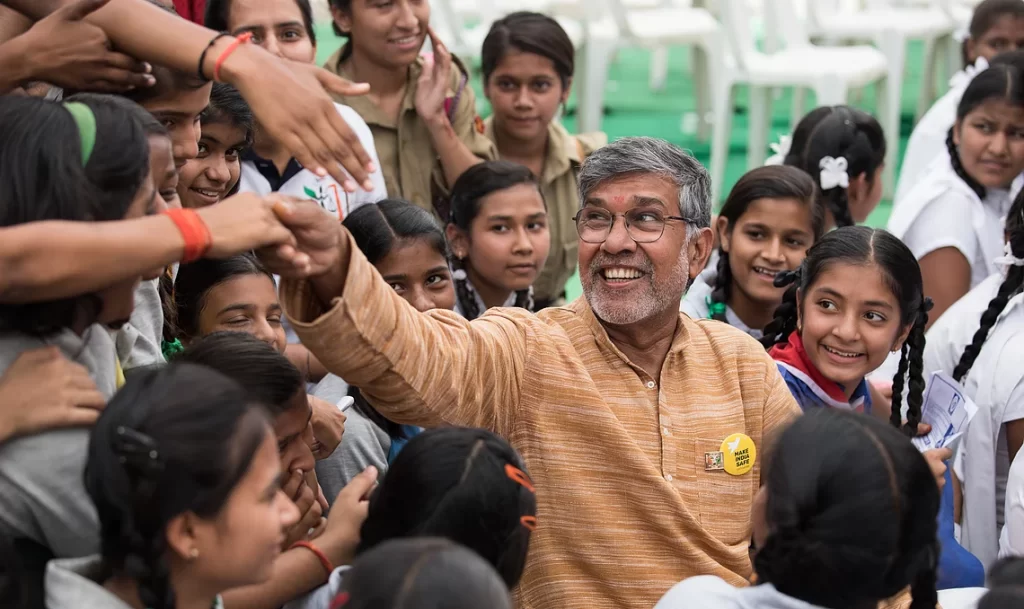 Building on Mr. Satyarthi's pathbreaking work of 40 years on promoting and protecting child rights, KSCF works in partnership with multi stakeholders both at the grassroots and global level, with governments, businesses, civil society, communities and children. Many initiatives have been taken by kailash satyarthi nobel prize winner to tackle the problem of child exploitation throughout the world. He firmly believes in using a holistic approach to deal with these pressing issues. Over the years he has transformed the lives of hundreds of thousands of children.  
He believe that every Indian citizen is an important stakeholder of the Justice For Every Child campaign. Your donation will enable the creation of an accountable and sustainable child protection ecosystem to keep our children safe.
Various issues NOBEL PEACE LAUREATE KAILASH SATYARTHI has worked on over the years
"I will see the end of child slavery in my lifetime."
- Nobel Prize Winner Kailash Satyarthi
Help Kailash Satyarthi Achieve His Vision
Now you can also help Kailash Satyarthi achieve his vision to create a better world for children and remove any kind of child exploitation from its roots. Donate to KSCF today and make a better world.
For corporate donations, please write to us at support@satyarthi.org
and we will be happy to share a detailed proposal with you.