Bal Mitra Mandal (BMM) or child friendly community, is a concept based on the flagship programme of KSCF — Bal Mitra Gram, functional in rural India — altered to suit the needs of children living in urban slums.
Launched in 2018, it is a sustainable, holistic and preventive intervention for child protection and development in urban slum communities so that every child is safe, free and educated.
Children in urban slum communities grow up in impoverished environments where they lack parental attention, have poor sanitation, abysmal healthcare and lack of quality education. As first generation learners, they do not get academic support at home more often than not which many a time forces them to drop out of school. Since options for small odd jobs are easily available, they are also more likelty to fall victim to child labour, abuse and are at a  greater risk of substance abuse.
Build child-friendly urban slum communities – where every child is safe, free and educated by
Kailash Satyarthi Children's Foundation aims to create child-friendly urban slum communities through its Bal Mitra Mandals (BMM) or child friendly community model. It is a sustainable, holistic and preventive intervention for child protection in urban slum communities to ensure that every child is safe, free and educated. 
Launched in four slums of Delhi in early 2018, it is an application of the principles of Bal Mitra Gram in the urban context. Presently, our BMMs are active in Sanjay Camp – Chanakyapuri, Indra Kalyan Vihar – Okhla, and Inder Camp and Israel Camp – Rangpuri Pahari, Vasantkunj, areas of the national capital.
A child-centric community model, a BMM empowers children to collectively work towards securing their rights. It enables parents and other local stakeholders to come together to build a protective community and create a safety net around children.
How bmm comunities function?
Formation of a Bal Mitra Mandal begins with bringing different groups within a community together to voice their opinions, concerns and collectively arrive at a solution. It provides space for individuals to listen and respect each other's views as they collectively work towards a common goal.
Number of
BMM Communities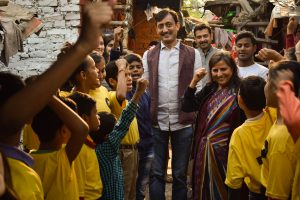 Sanjay Camp, Chanakyapuri, New Delhi
Established around 40 years ago, Sanjay Camp comprises of over 2,500 households. Most of the members in the community are employed as construction labourers, drivers, domestic help, car cleaners, ice cream vendors, shopkeepers, garbage collectors, and similar jobs.
Major social problems in the area are lack of awareness, anxiety, depression and violence among the youth, along with drug addiction.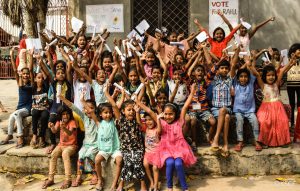 Indra Kalyan Vihar, Okhla, New Delhi
Located in one of the biggest industrial areas of Delhi, Okhla, Indra Kalyan Vihar Camp was established in 1980 and hoses over 4,000 families. Major occupations of the community members include skilled and unskilled labour, driving, working as house help, as car cleaners and others.
This slum, situated in industrial area, is exposed to downstream course of industrial waste residue leaving inhabitants highly exposed to pollution-borne diseases. Children seldom get early vaccination, increasing the incidence of polio, pneumonia, whooping and chronic cough and other respiratory diseases, given their proximity to industrial establishments and closeness to where the toxic waste is usually dumped. Thousands die annually due to these unhygienic and diseased dwelling conditions. Also, chronic paucity of resources in the household contributes to increasing marital stress, leading to domestic violence.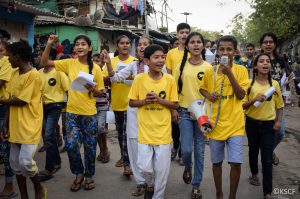 Israil camp in Rangpuri Pahari, Vasant Kunj, New Delhi
Established in 1950, situated behind some of the most high-end malls of the city, this slum consists of around 1,500 households. Scrap-picking, street-hawking, domestic work, driving, car cleaning, are among the most common occupations of the dwellers.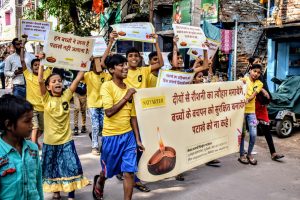 Inder camp in Rangpuri Pahari, Vasant Kunj, New Delhi
Inder Camp is also located in Rangpuri Pahari, adjacent to Israil Camp. This slum was also established in 1950 and houses over 1,200 families. People in this community work in neighbouring areas as labourers, drivers and domestic helpers.
The girls in this community do not get time for education as they are burdened with taking care of their younger siblings, doing household chores, carrying water from long distances and taking care of sick family members. With most houses lacking toilet facilities, people use community toilet, which becomes a problem for girls at night, as it increases the risk of sexual assault.
In a child-friendly community, every child is safe, free, healthy and educated
Rang Badlav Ke - paint the change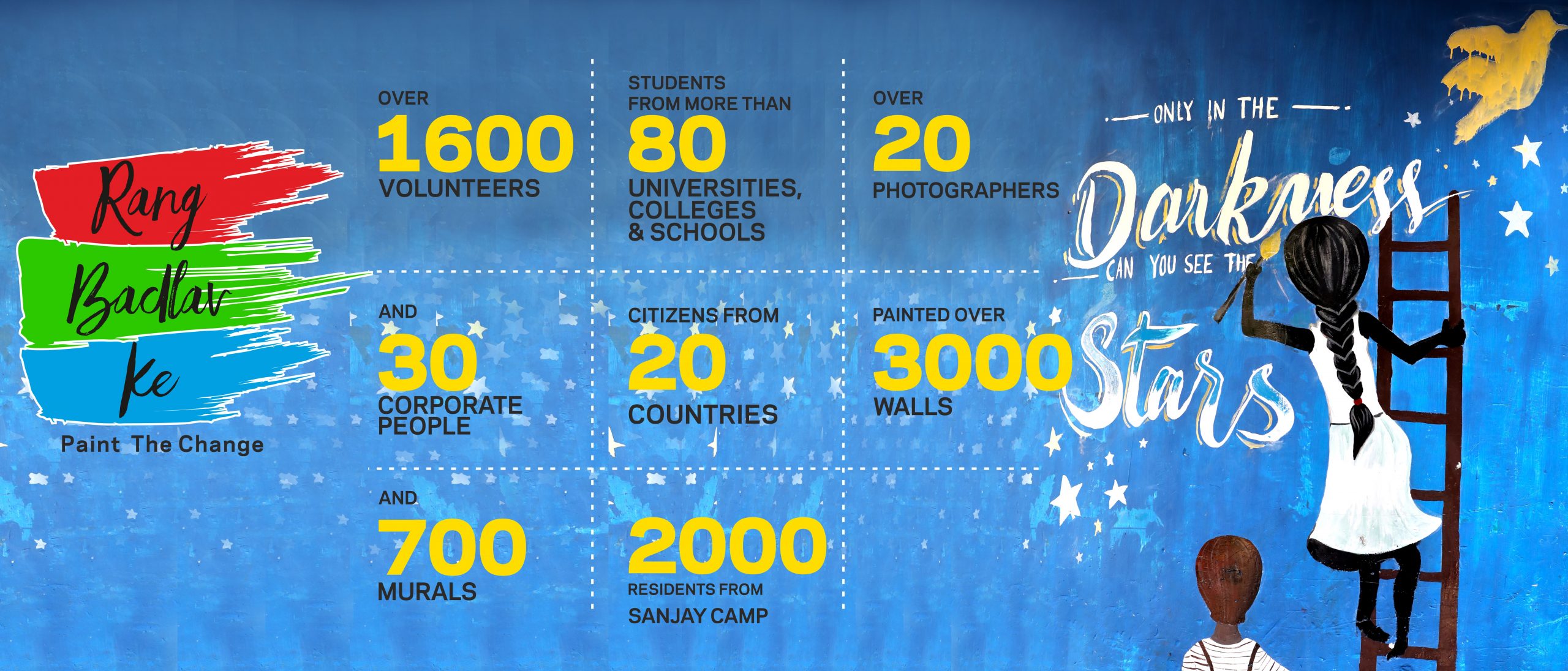 More than 1,600 volunteers engaged during the Bal Mitra Mandal 'Rang Badlav Ke' (Paint the Change) event, including artists, writers, bloggers and photographers, to beautify the Sanjay Camp community in New Delhi and to tell inspiring stories.
15,714 children are being protected from violence and exploitation on a daily basis and the school enrollment has gone up from 88% to 98%.
With the help of our complaint cell, we managed to find and repatriate two missing children in Indra Kalyan Vihar slum community.
Over 1,400 children in these communities learnt about democracy by electing 11 child leaders in each community for the Bal Panchayat (children's council). The selected leaders advocate for children related issues in their community including safety and security of children, education, sanitation, and access to clean water.
Through partnership with 4 other NGOs, over 600 children have access to remedial education programmes and 50 children from Sanjay Camp have been enrolled in English learning programme at the American Embassy School.
With our intervention, Special Training Classes for dropout children have been started in these communities by New Delhi Municipal Council.
After organising children's visits to nearby police stations to establish a friendly relationship between the law enforcement agency and the community, the police are taking active interest in the communities with regular visits by senior officials.
New school has been inaugurated in Indra Kalyan Vihar by Hon'ble Home Minister of India, Rajnath Singh and children of BMM.
The BMM team facilitated Aadhar enrolment in the communities leading to almost 90% enrolment.
BMM programme is now set to be launched in two urban slums of Mumbai – Sion and Pratiksha Nagar
Using the first 4 communities as a pilot, build a replicable blueprint for implementing a child-friendly urban slum community – where every child is safe, free and educated
Roll-out child friendly urban slum communities as building blocks towards developing a child-friendly city
Use the BMM programme as a way to activate and strengthen the local government's initiative towards building safer urban communities for children
Transform children and other community members into long term change agents who sensitize the broader community regarding child rights and the importance of education.
Work with the government to make a self-implementable rollout of Bal Mitra Mandal