Programmes are a set of interventions at the community level both in rural and urban areas whose objective is child centric community development. Programmes aim at realisation of a community where no child is in labour, or has been trafficked. Further, every child is enrolled in school and receives education. The interventions also aim to ensure that each child is well nourished, healthy, and the mothers of young children are aware about the importance of education, hygiene and nutrition. The interventions also aim at child empowerment through their participation in the decision making process at the community level.
Bal Mitra Gram - The Child Friendly Village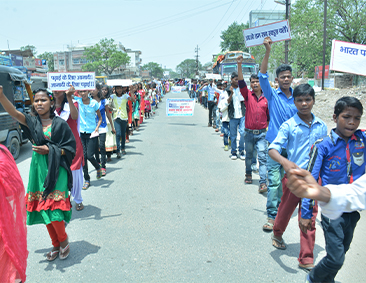 Bal Mitra Gram (BMG) is a flagship programme to prevent all kinds of exploitation of children, and ensuring their education and empowerment in rural communities. The guiding principles of BMG programme include ensuring that all child labourers are withdrawn from work, all children are enrolled in and attend school, children participate in democratic decision making through formation of Bal Panchayats (elected children's council) and ensuring that the Bal Panchayats are recognised by the village council. The programme also includes interventions to empower communities including women and youth leading to overall development of village and transformation of the village community. BMGs are currently functional in six states viz. Uttar Pradesh, Rajasthan, Madhya Pradesh, Karnataka, Bihar and Jharkhand.
GEOGRAPHICAL COVERAGE BMGs (2001-2018)
No. of states BMGs are
functional
No. of BMGs currently
functional
No. of BMGs handed over
to communities
No. of Girl members in
Bal Panchayats
No. of children protected
on a daily basis
No. of children withdrawn
from labour
From Mica Mining In Rat Holes To An Educator Changing Lives Of Children Crawling through the hazardous tunnels of mica …
Crusader against Child Marriage Champa Kumari was 12 years old when she was rescued from a mica mine in Giridih …
Bal Mitra Mandal (Child-Friendly Communities)
Bal Mitra Mandal (BMM) is a sustainable and holistic intervention for child protection and development in urban slum communities so that every child is safe, free and educated. BMM is a preventive intervention.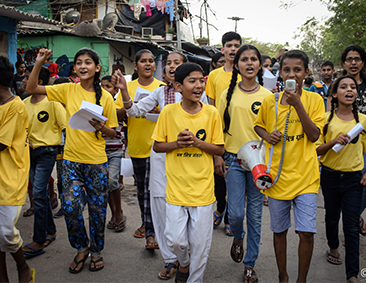 GEOGRAPHICAL COVERAGE BMM
No. of households
reached
No. of children being
protected on a daily basis