The objective of the Campaigns is to engage, inspire and mobilise people from diverse backgrounds to build a child friendly world.
Campaign on Wheels is the flagship campaign of the Division to combat violation of child rights with special focus on child trafficking and child labour by creating awareness among the citizens on these issues. Led by youth who had been withdrawn from child labour by the efforts of Mr. Satyarthi, the Mukti Caravan moves across the country, spreading awareness about the organised crime of child trafficking and other forms of exploitation of children through interactions, Nukkad Nataks, wall writings, pamphlet distribution and screening of audio visual material.
Mukti Caravan
outreach number
100 Million campaign is a global campaign to mobilise 100 million youth to devote themselves for a better future for 100 million marginalised children who have been denied their rights and liberty. Since its launch in 2016, youth, civil society organisations, trade unions, schools and universities from more than 36 countries have joined this campaign, and are working together to protect the rights of children of their respective countries.

Public dialogues are being organised at grassroots level in states across the country in collaboration with partners with the aim to identify gaps in the implementation of various national legislations to combat child trafficking and other child rights violations. These dialogues also aim at identifying ways and means for strengthening of the implementation mechanism for laws related to children.
No. of public dialogues
organised
No. of key stakeholders
reached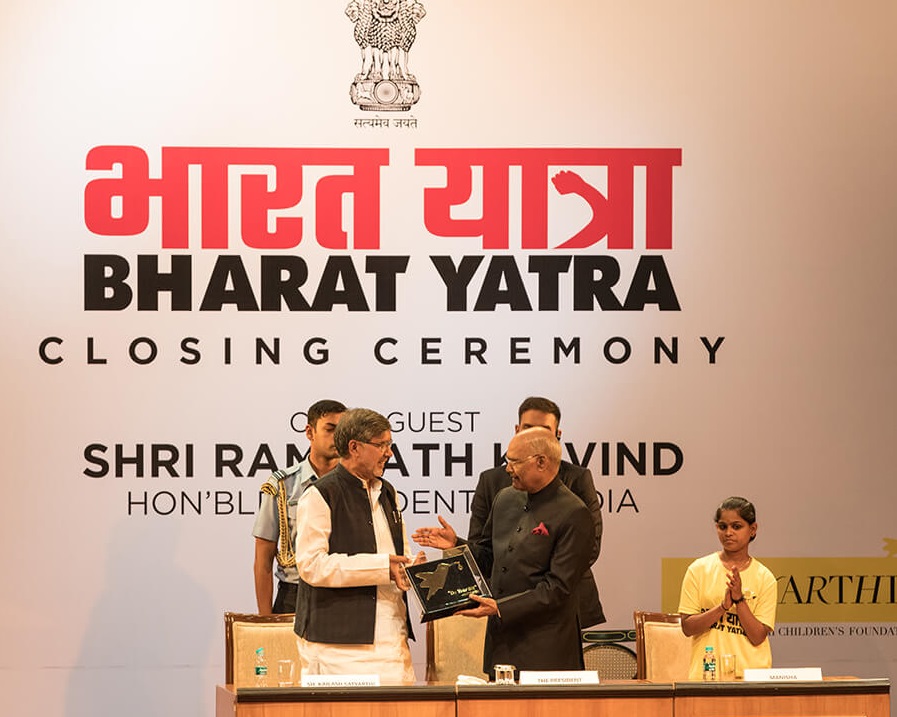 Bharat Yatra or India March was launched by Nobel Peace Laureate Mr. Kailash Satyarthi on September 11, 2017, which set in motion, the world's largest youth-led mobilisation for children in need of care and protection. The objective of this long march was to create a mass movement to end child sexual abuse in India. Within a duration of four months, the Yatra led to over one million people signing pledges in support of the cause. Around eight hundred thousand people joined the 12,000 km long march across India.
Rape Free India campaign was carried out across India prior to the General Elections 2019, to mobilise the support of political leaders for the cause of making the country safe for women and children. During the campaign, 615 candidates contesting the Lok Sabha Elections 2019, were sensitised on the issues related to safety of women and children. These candidates signed pledges to work on the issue once elected. Of these, 121 candidates were elected to the Parliament.
Total traffickers
identified
Total screening of award winning documentary The Price of Free
No. of districts covered in
film screening
No. of people mobilised
through film screening