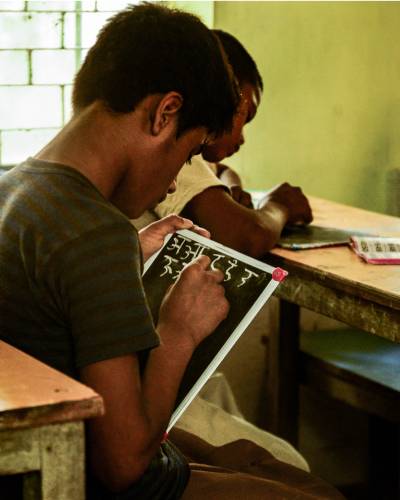 1. How is Kailash Satyarthi Children's Foundation addressing this issue?
An innovative and transformative grassroots solution to prevent child exploitation, the Bal Mitra Gram (BMG™) model empowers children to take democratic actions to protect their rights, and enables parents and other stakeholders to stand up for the rights of children and build a protective community. A BMG™ thus creates a safety net around children to promote education by enabling access to rights and empowers children to demand for quality, inclusive and equitable education within their communities and beyond. KSCF also works to create robust education infrastructure in the communities by undertaking infrastructure improvement activities including construction of school buildings, construction of toilets, ensuring teacher presence, enrolling children and more. 
Launched in 2018, Bal Mitra Mandal (BMM) is a sustainable, holistic and preventive intervention for child protection and development in urban slum communities so that every child is safe, free and educated. Children are empowered to enable to them to access their right to education and are provided with non- formal education before mainstreaming them into formal schools. KSCF is working on quality of child education in India, if you also want to support us to the better future of every child just donate us. 
2. What do we mean by out-of-school children?
According to UNESCO, out-of-school children are children of official primary school age who are not in primary or secondary Child education in India. Children in pre-primary education or non-formal education are considered out-of-school. 
3. How many children are out of school in India?
National Sample Survey Organisation's 2017-18 household survey put the number of out-of-school children in India (6-17 years) at 3.22 crore.
4. Who is at risk of being pushed out of school?
Vulnerable and marginalised children including children in poverty, migrant children, street children, child labourers, married girl children, bonded child labourers and children affected by disasters and lack of awareness in their communities, are most at risk of being pushed out of school.
5. What are the causes and consequences of lack of quality child education in India?
Causes of lack of quality education in India include poverty, inaccessibility, lack of proper infrastructure, lack of toilets, books and stationery, absence of teachers and negligible focus on quality. 
Due to these factors, children end up dropping out of school leading to serious consequences such as fewer job opportunities, lower salaries, lack of skill sets, higher probability of involvement in criminal activities, early marriage, child labour and child trafficking. Girls especially face double disadvantage due to lack of child education in India. 
6. What are the laws on education in India?
The Constitution (Eighty-sixth Amendment) Act, 2002, inserted Article 21-A in the Constitution of India to provide free and compulsory education of all children in the age group of 6 to 14 years as a Fundamental Right in such a manner as the State may, by law, determine. The Right of Children to Free and Compulsory Education (RTE) Act, 2009, which represents the consequential legislation envisaged under Article 21-A, means that every child has a right to full time elementary education of satisfactory and equitable quality in a formal school which satisfies certain essential norms and standards.
7. What can I do to support children's education?
Donate to our initiatives on ensuring quality education for all

Follow us on social media

Raise awareness amongst vulnerable communities on the importance of quality education for all and its access  by all children