Over the years a number of laws and policies related to child protection have been made or amended to protect the children of our country. However, implementation of child protection laws remains a challenge for various reasons — lack of clear understanding, poor capacity and awareness among both the implementers and the beneficiaries and more. As a result, many laws remain on papers, funds in various schemes remain unspent, and many children are still subjected to child labour, trafficking, child sexual exploitation and other forms of abuse and exploitation on a daily basis.
The Training and Capacity Building Division of the KSCF Global Policy Institute for Children aims to address the lacuna through conducting training and capacity building workshops across the country, to strengthen the law implementation mechanism and generate awareness among citizens which will lead to proper protection and care of the children.
Knowledge and skills are imparted at national, state, district and village level through innovative, practical, hands-on training sessions on child protection laws, policies and programmes.
We also develop comprehensive and easy-to-understand learning resource material on child rights and child protection.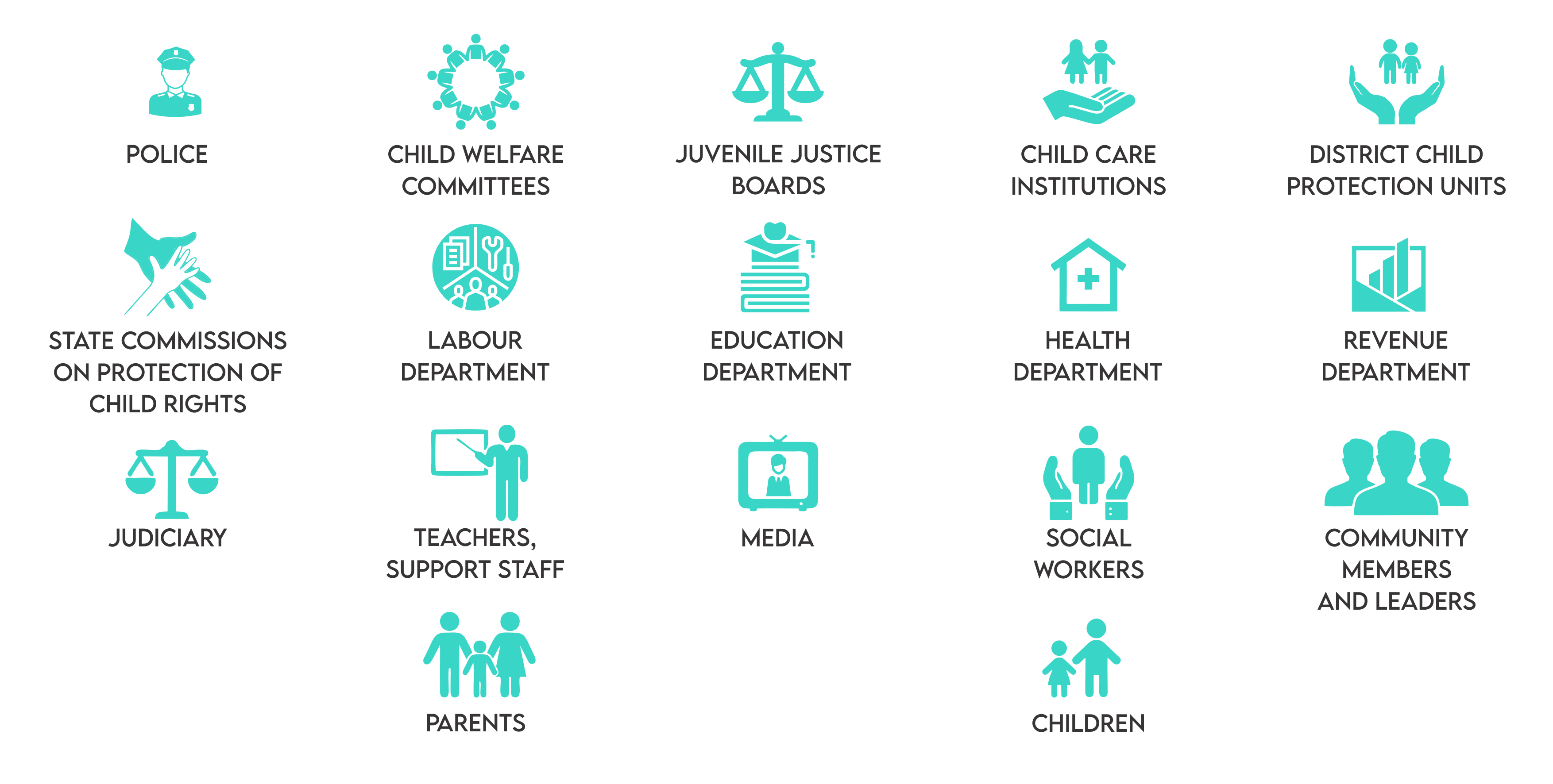 We provide training on child rights and child protection issues and legislations in India, namely-
Topics we cover:
Child rights with focus on child protection
Child labour and bonded labour
Child sexual abuse
Child trafficking
Missing children
Child psychology
Laws in focus:
Juvenile Justice (Care and Protection of Children) Act, 2015
Child and Adolescent Labour (Prohibition and Regulation) Act, 1986
The Bonded Labour System (abolition) Act, 1976
Protection of Children from Sexual Offences Act, 2012
Prohibition of Child Marriage Act, 2006
Child protection functionaries trained
Child protection functionaries trained
Subject-matter specialists and experts in their respective fields are engaged to share knowledge and experiences with the participants on child rights and child protection laws, some of them include-
Bhuwan Ribhu, Child rights lawyer and activist
S.C. Sinha, CEO – Kailash Satyarthi Children's Foundation
Sutapa Sanyal, Advisor – Kailash Satyarthi Children's Foundation
Rakesh Senger, Executive Director – Bal Mitra Mandal, Kailash Satyarthi Children's Foundation
Dhananjay Tingal, Executive Director – Bachpan Bachao Andolan
Jyoti Mathur, Director – Training & Capacity Building, Kailash Satyarthi Children's Foundation
Sampurna Behrua, Director – Bachpan Bachao Andolan