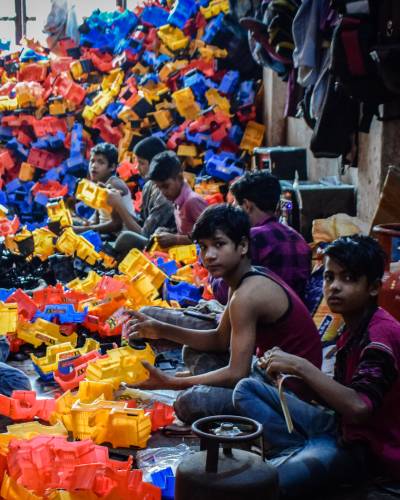 1. How is Kailash Satyarthi Children's Foundation (KSCF) addressing child labour?
KSCF's Bal Mitra Gram (BMG) and Bal Mitra Mandal (BMM) is an innovative and transformative community-led solution to prevent child exploitation in villages and urban slums respectively. Child labour NGO KSCF empowers children to take democratic actions to protect their rights and enables parents and other stakeholders to stand up for the rights of children and build a protective community. Under this program, KSCF withdraws children from child labour, enrols them in schools and build awareness for preventing child labour in India.
 KSCF also releases ground-based evidences, researches and reports and uses the same for advocacy with the Government and Parliamentarians at the national and local levels for the creation of robust laws and policies on child labour and ensuring their effective implementation.
2. What is child labour?
The term "child labour" is often defined as work that deprives children of their childhood, their potential and their dignity, and that is harmful to physical and mental development. It refers to work that:
is mentally, physically, socially or morally dangerous and harmful to children; 

interferes with their schooling by depriving them of it or affecting their attendance and concentration
 Many children in child labour in India work in slavery, separated from their families and are exposed to serious hazards and illnesses.
3. What are the causes and consequences of child labour in India?
Child labour is both a cause and consequence of poverty. Household poverty pushes children into the child labour in India market, perpetuating poverty across generations, slowing economic growth and social development. 
It prevents children from gaining an education and skills that will lead to an adulthood of decent work opportunities. Inequality, lack of education, consumerism, discriminatory practices as well as traditions and cultural expectation are among factors that play a role in the occurrence of child labour in India.
4. India has how many child labourers?
According to data from Census 2011, the number of child labourers in India is 10.1 million of which 5.6 million are boys and 4.5 million are girls. The latest global estimates indicate that 160 million children – 63 million girls and 97 million boys – were in child labour globally at the beginning of 2020, accounting for almost 1 in 10 of all children worldwide
Across India child labourers can be found in the agriculture, industry and service sectors such as in brick kilns, carpet weaving, garment making, domestic service, food eateries, sugarcane farms, fisheries and mining. Children are also at risk of various other forms of exploitation including sexual exploitation and production of child pornography. Lots of NGOs like KSCF is working against child labour. 
5. What kind of health hazards/ problems do child labourers face?
Due to long working hours and hazardous work, children in child labour in India face a number of problems.  The conditions in which children work are mostly unhygienic and toxic for their health. Stress, depression, tuberculosis, night blindness and back pain are some of the most common health problems faced by such children. Child labourers can suffer from long-term health problems such as due to malnutrition, exposure to chemicals, abuse, injuries, exhaustion, and psychological harm. These children are often subjected to sexual abuse.
6. How many children are out of school in India?
The National Sample Survey Organisation's 2017-18 household survey put the number of out-of-school children in India (6-17 years) at 3.22 crore. In January 2020, for the first time, the school dropout rate in India was less than 3%, but Covid-19 will undo that. Globally, more girls are likely to be affected at pre-primary and upper secondary levels, while both boys and girls are at a greater risk of not returning to universities.
7. How can I stop child labour in India?
Raise your voice against child labour through media, social media, programmes and awareness raising activities

If you spot children being employed in a domestic home or factory or a shop, report it at our Complaint Cell – 1800 102 7222 or dial  Childline – 1098

Support child labour NGO KSCF work by donating to our campaigns and programmes on child labour

Follow our work on social media