Promoting Digital Education among marginalized children in Koderma, Jharkhand
The COVID-19 pandemic has affected educational systems across the country, leading to the near-total closures of schools, universities, and colleges. Most governments around the world have temporarily closed educational institutions in an attempt to contain the spread of the virus. This prolonged closure has a disproportionately negative impact on the most marginalized children in the rural areas.
 In addition, since children specially from the remote rural areas are out of school due to the pandemic, they are not only losing interests in education but they have also become more vulnerable to trafficking for labour and other forms of exploitation.
Therefore, keeping in view the imminent dangers of the third wave of COVID-19, the Police Department of Koderma, Jharkhand, and the reputed newspaper Dainik Jagran took an initiative to support children in the rural Jharkhand to continue their education through digital modes.
For this cause, people were requested to donate smartphones, tablets and laptops so that the marginalized children who lack access of digital modes of education, can be linked to online classes and leaning platforms to continue their education.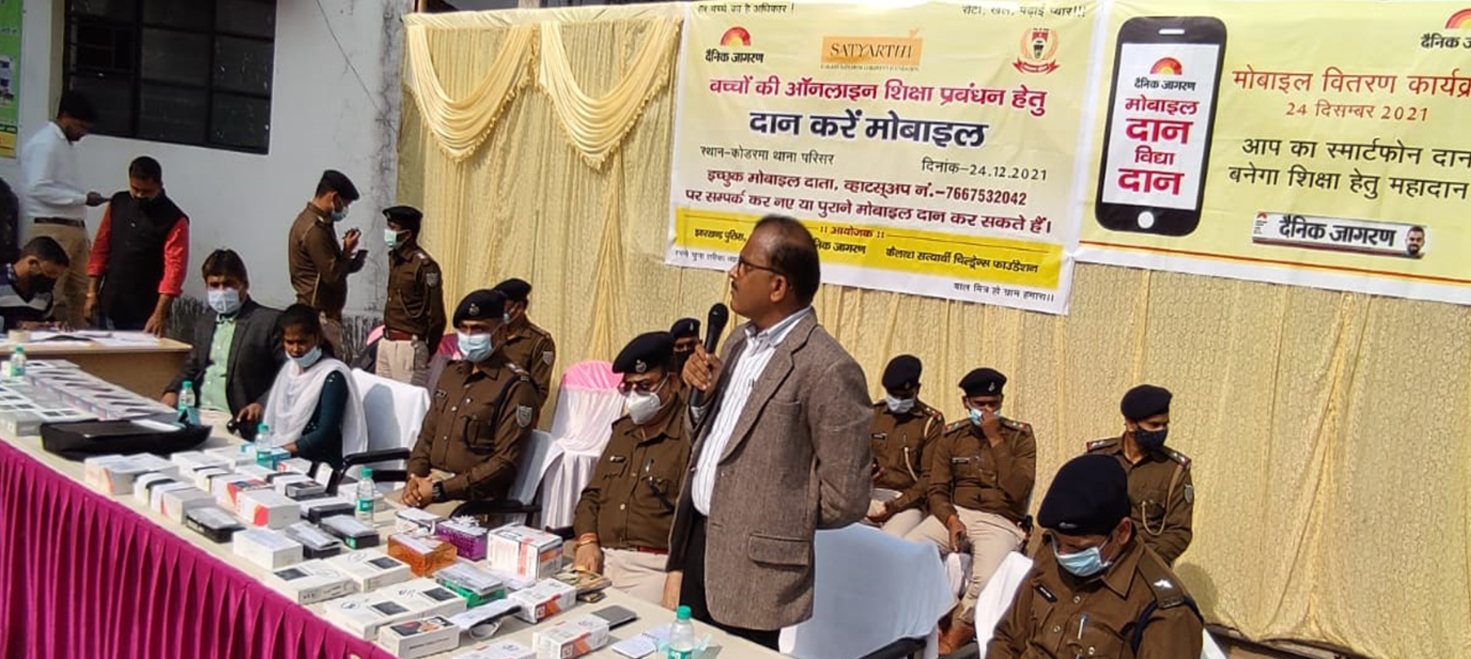 Since KSCF's intervention model, Bal Mitra Gram is actively working in all the blocks of Koderma district, the identification and selection of children for digital devices distribution was done by BMG teams working in the village levels.
Given below are the details of the number of digital devices distributed.
| | | |
| --- | --- | --- |
| S.No. | Devices distributed | Number of devices distributed |
| 1 | Smartphones | 42 |
| 2 | Tablets | 15 |
| 3 | Laptops | 01 |
|   | Total | 58 |
The smartphones were allotted to children who do not possess a smartphone at homes or in their families.  Whereas tablets were distributed to children who have done their intermediate. This will also assist the elder children to teach and help avail online classes to other children of the junior classes. And the laptop was given in the Kasturba Gandhi Balika Vidyalay (KGBV).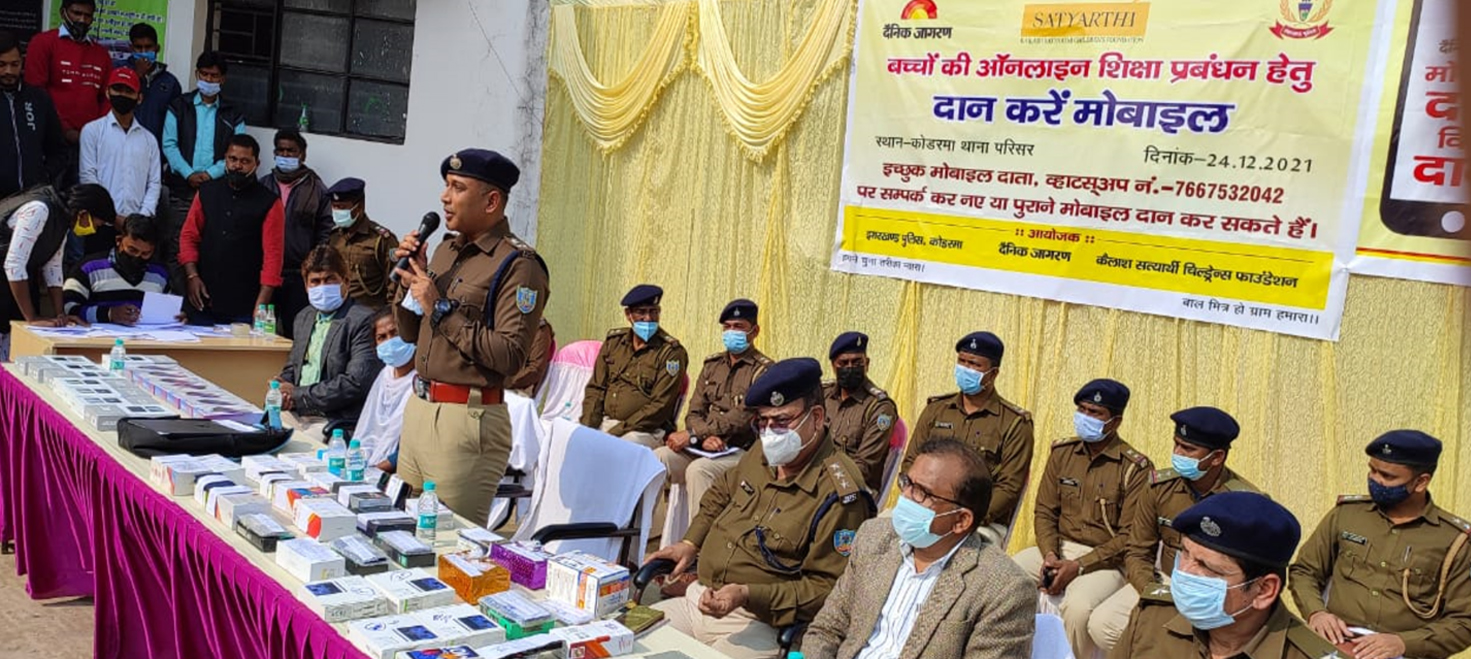 For the devices distribution, a program was organized on 24th December 2021 in the Koderma police station premises. In which Koderma Superintendent of Police Mr. Kumar Gaurav, Dainik Jagran's local editor Mr. Anoop Kumar, Kailash Satyarthi Children's Foundation's Director, Mr. Om Prakash and a senior worker of the organization Mr. Govind Khanal and all the workers and in-charges of various police stations of the district, including dignitaries of the city, media persons, along with children from various BMGs participated.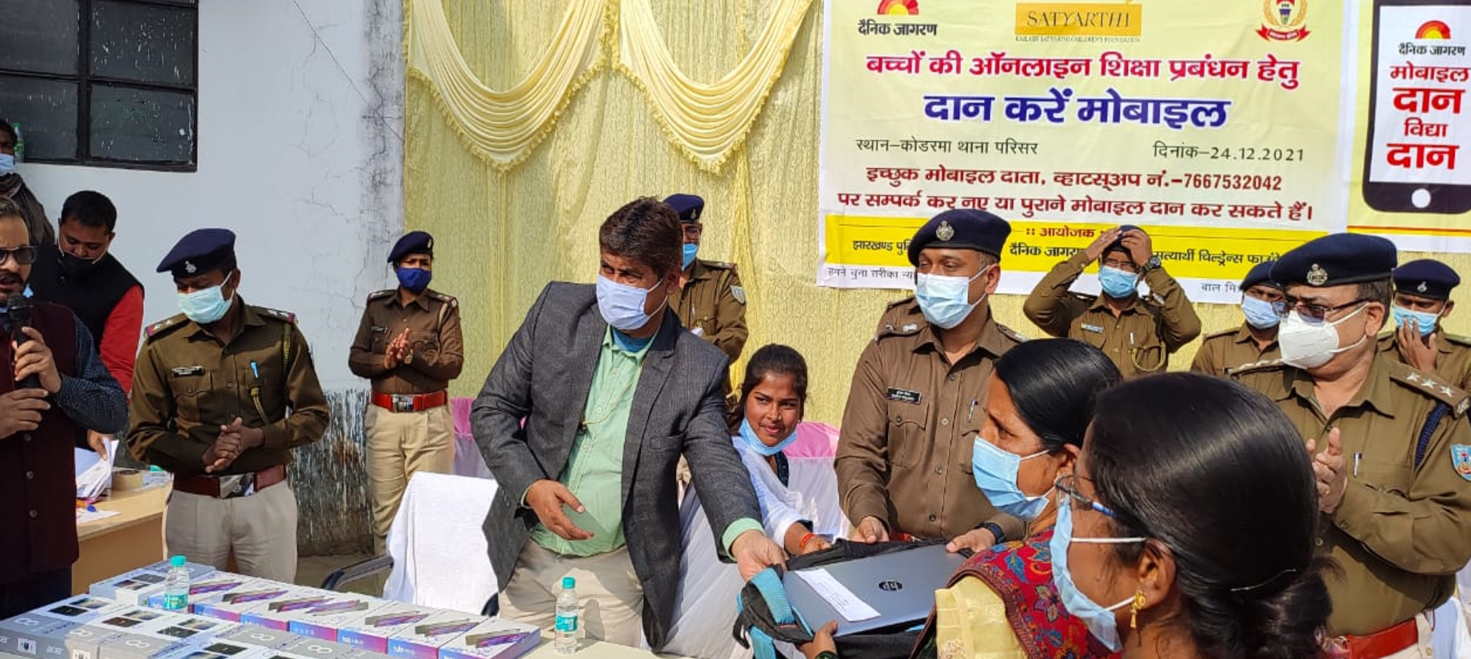 During the program, DSP of the district requested Kailash Satyarthi Children's Foundation for their contribution in providing trainings on child protection and organize workshops in Bal Mitra police stations on various issues concerning children's exploitation to the police personnel across the districts.