The Bal Mitra Gram™ (BMG™) or Child Friendly Village model is an internationally recognized model for child-centered rural development, pioneered by Kailash Satyarthi Children's Foundation (KSCF) in 2001.
An innovative and transformative grassroots solution to prevent child exploitation, the BMG™ model empowers children to take democratic actions to protect their rights, and enables parents and other stakeholders to stand up for the rights of children and build a protective community. A BMG™ thus creates a safety net around children to prevent child trafficking, child labour, child sexual about and child marriage.
Developed over two decades of grassroots interventions, it has been implemented successfully in 540 BMG™s across six states in India, and in Nepal and Uganda. The most powerful strategy of the BMG™ model is the active participation of children through the Bal Panchayat (Children's Council). It is a tool for children to demand their right to be safe, to receive quality education, to access government services and schemes, and to break the systemic barriers of oppression and injustice.
villages made
child friendly
children elected leaders
of Bal Panchayat
Pillars of Bal Mitra Gram™
No child in labour or being trafficked or married in the villages
All children receive a meaningful and quality education
Child leadership established through Bal Panchayat (children's council).
Bal Panchayat (Children Council) receives recognition of the Gram Panchayat (Village Council)
Empowered communities including women and youth, marginalized and vulnerable sections which lead the child protection and village development
Pillars of Bal Mitra Gram™
No child in labour or being trafficked or married in the villages
All children receive a meaningful and quality education
Child leadership established through Bal Panchayat (children's council).
Bal Panchayat (Children Council) receives recognition of the Gram Panchayat (Village Council)
Empowered communities including women and youth, marginalized and vulnerable sections which lead the child protection and village development
Guiding Principles of a Bal Mitra Gram™
All child labourers are withdrawn from work

All children are enrolled in school

Ensure no child is forced into marriage or is trafficked

Children form a Bal Panchayat (an elected children's village council)

Bal Panchayat is officially recognised by the Gram Panchayat (elected adult village council) and two councils work together on issues related to children.

Empower communities including women and youth and marginalized and vulnerable sections to augment child protection and village development 
Formating of a Bal Mitra Gram™

Chronology of Bal Mitra Gram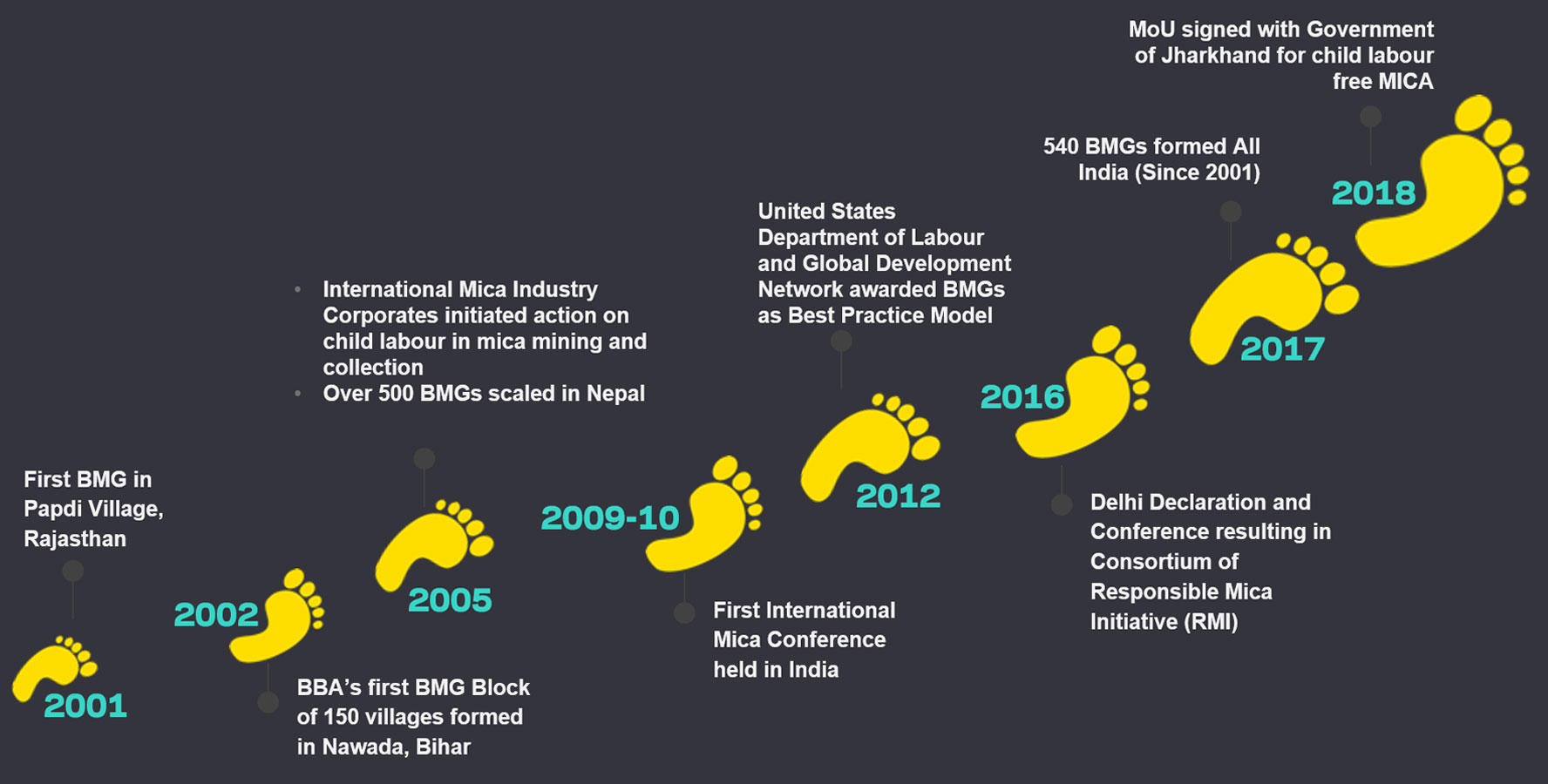 Mahatma Award for Social Good 2020 awarded to KSCF for implementing a child-centred community development model Bal Mitra Gram™

The Diana Award, 2020, to BMG™ leader Neeraj Murmu (Jharkhand)

The Diana Award, 2019, to BMG™ leader Champa Kumari (Jharkhand)

Governor of Jharkhand Smt. Droupadi Murmu honoured BMG™ leader Champa Kumari

Goalkeepers Global Goals Change Maker Award, 2019, to BMG™ leader Payal Jangid (Rajasthan)

Japanese Award for Most Innovative Development Project by Global Development Network in 2010
Child leaders: Catalysts for social change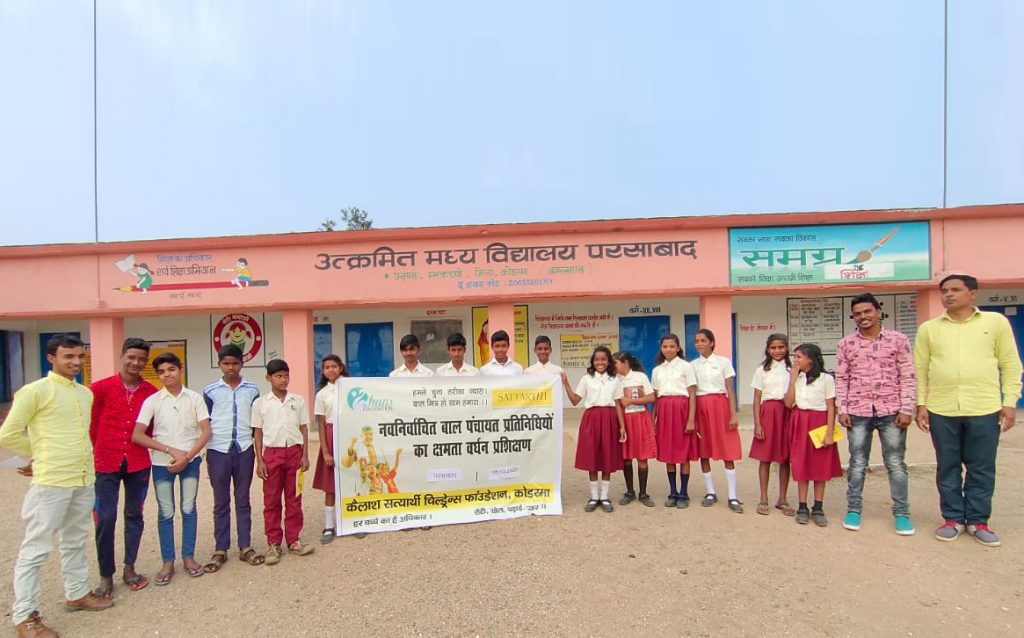 The story of Parshabad village, one of the remotest villages in Koderma district of Jharkhand, is a living testimony of how shackles of age-old discrimination can be broken when children come together to demand their rights. 
Read More
For decades, the Valmiki community – children and adults alike – had to grapple with caste based discrimination everyday. The ills of social ostracisation had percolated down to the local government school as well. The principal and teachers were mute observers and active participants and tacitly allowed discriminatory practices to continue unabated.
Children from the Valmiki community were not allowed to take part in Saraswati Puja celebrations (Saraswati  is the Hindu Goddess of knowledge) held in the school every year. Unfortunately no questions were asked. 
This was the accepted norm until the day when children of the Bal Panchayat (children's council) decided that this had to stop. With the help of grassroot level social workers of KSCF, children devised a plan; they had to bring everybody together to raise their collective voice against the social malaise of untouchability. They began meeting school teachers, school management committees and parents to garner support.
Their collective effort paid off and finally the teachers agreed to include children from all communities in the Saraswati Puja. However, there came another obstacle when the Principal, to perpetuate caste based discrimination, refused to allow the puja to continue.
Refusing to be cowed down, children reached out to women and other community members to collectively approach the Block Development Officer (BDO) and District Superintendent of Education Office (DSEO). They filed a complaint against the Principal following which an inquiry was instituted and the Principal was transferred. 
Today, owing to the relentless work put in by the children, Parshabad has become a model for other villages. The ills of casteism and discrimination and untocuhability are a thing of the past and every child in their community goes to school. The entire community takes pride in calling it a child-friendly village.
Grit, Perseverance and Passion: Bal Panchayats prove that nothing is impossible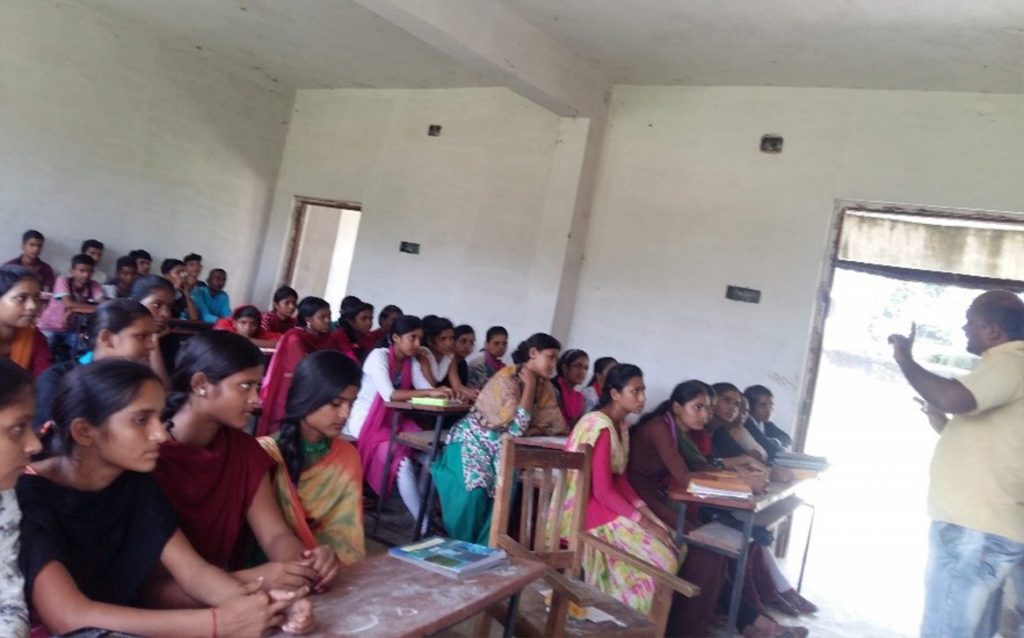 For children living in the West Pihra Panchayat, Giridih district quality education was a distant dream. Coupled with the hostile terrain and inadequate public transport which made transportation an ordeal, the solitary government secondary school with 910-odd students on its rolls had just just one teacher for standards 9 to 12. 


Read More
Deeply perturbed at the abysmal standard of education in the school and the fact that other girls remained out of school for want of a female teacher, Nisha, a sprightly 16- year-old, took it upon herself to bring about change. With Kailash Satyarthi Children's Foundation (KSCF)'s help, she founded a Bal Panchayat (Children's Council) and started meeting other parents and elders to discuss the problem.
Sensitised about the problem in hand, community members and the Panchayat extended their support to Nisha's endeavour and approached the District Magistrate (DM) with a complaint. Mobilised by Nisha, the children diligently followed up with the DM and even submitted an application to the National Commission for Protection of Child Rights (NCPCR) in one of its public hearings in August 2019 invoking their right to quality education.
Moved beyond words, DM ensured that the Education Department appointed four teachers in the school.But that wasn't enough for the child warriors. With a single point agenda of having more teachers, the Bal Panchayat continued pursuing their case with tenacity for two years to ensure appointment of more teachers. 
By the end of July 2018, four additional teachers were appointed in the school. In January 2019 and July 2019, four teachers  and three teachers respectively  were appointed to their school. In October 2019, on the order of NCPCR a female teacher was appointed in the school. 
The perseverance of the Bal Panchayat ensured the appointment of a total of 16 teachers in the school between December 2017 to October 2019.
Today, Nisha, who is the President, Bal Panchayat, Neemadhi village beams with pride when she talks about the improved quality of education in her school. She says,  "The appointment of teachers has been beneficial especially the presence of a female teacher. There are some things which we are only comfortable about discussing with a female teacher. No matter how many male teachers are appointed, if we have at least one female teacher in the school, we girls feel secure and comfortable".
Where there is a will there is a way: Transformation of Golgo BMG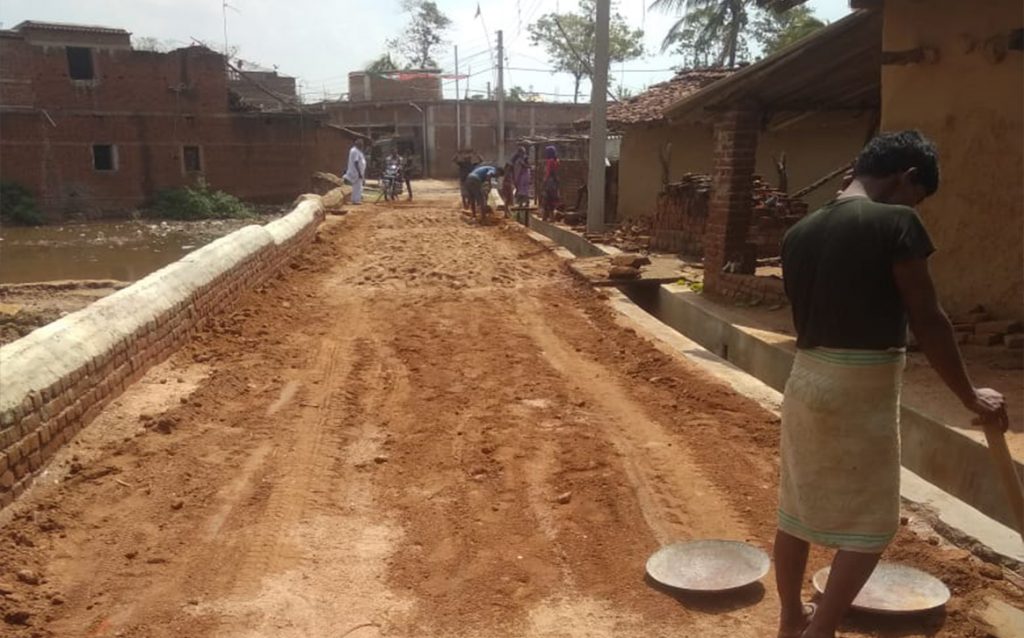 A nondescript village of just about 35 households in Domchach block of Jharkhand's Koderma district, Golgo had virtually nothing to talk about. Lacking basic amenities, Golgo   had no pucca houses, no electricity, road connectivity and no anganwadi centre either. Alcoholism had added to the woes of the households with men spending the little that they earned on buying alcohol. With mica mining being the only source of income, entire families including children were forced into labour at the cost of their health. 


Read More
Kailash Satyarthi Children's Foundation (KSCF)'s Bal Mitra Gram™ led by children took initial steps that have led to a holistic transformation of Golgo. With stakeholder groups like Mahila Mandal, Yuva Mandal and the BMG™ Advisory Committee being put in place, every stakeholder got a chance to have their issues represented. 
Field activists were able to halt child labour and increase enrollment in school with other issues related to housing and road connectivity being addressed as well. The positive change soon led to more community members showing active interest to come forward and support field activists in co-creating solutions to resolve problems.
With just two teachers including one who worked on a contractual basis in the sole primary school, education was hardly a priority area. Given the fact that they had to travel about seven kilometres, the teachers hardly came to school. The school did not have a toilet and children did not receive mandated mid-day meals. With parents being unaware of their roles in the School Management Committee (SMC), the institution had become dysfunctional for all practical purposes. Almost all the children dropped out after primary school with very few boys studying further. 
Through sustained collective efforts of all stakeholder groups and the Bal Panchayat, slowly children were enrolled in the school. The groups tracked the progress of individual children to ensure they continued their education and worked towards ensuring that girl children in particular attended school. Active participation of parents led to stronger SMCs helping solve multiple infrastructural gaps. 
Today, the school has access to electricity, separate toilet facilities for girls, classrooms with fans and benches for children to study. The village is also set to have its own Anganwadi Centre very soon.
Active engagement with the local government helped ensure that the villagers of Golgo were able to access basic facilities and social entitlements that were hitherto denied to them. They were successful in making the district government initiate a 2000 lt water tank construction and get approval to dig the existing well by an additional 7 feet deep. This helped provide the villagers with clean supply of drinking water.
The village community today feels more empowered and is now working together to create a child-friendly village where every child receives education and no one is pushed to work in mines. The Bal Panchayat, with active support from stakeholder groups, has understood the true power of advocacy and networking with government officials. Today, Golgo is an inspiration for every other village aspiring to change.
Letters written by Bal Panchayat children demanding eduatiocational facilities in remote villages of India

Letters written by Bal Panchayat children demanding educational facilities in remote villages of India.  
When schools shut down due to COVID-19 pandemic, millions of children residing in villages of India were impacted. They lacked access to phones, laptops or network connectivity to attend online classes which emerged as an alternative to regular schools. 
To address this issue, Bal Panchayat leaders sprung into action. They initiated a  nationwide signature campaign demanding continuity of education in the villages. A total of 15,267 signatures were collected.
Bal Panchayat leaders sent a letter to the Prime Minister's Office to share the concerns raised by children across 6 states of India. Moreover, during the Laureates and Leaders Summit, 2020, National Maha Bal Panchayat President, Lalita Duharia, spoke on behalf of millions of children. She raised the demand for continuity of education for the children who reside in the remotest villages of the country in the presence of Women and Child Development Minister Smriti Irani. 
The minister acknowledged the problem and said that efforts will be made to ensure access of online classes to all children nationwide and community radio will be used as a medium to impart education in the villages.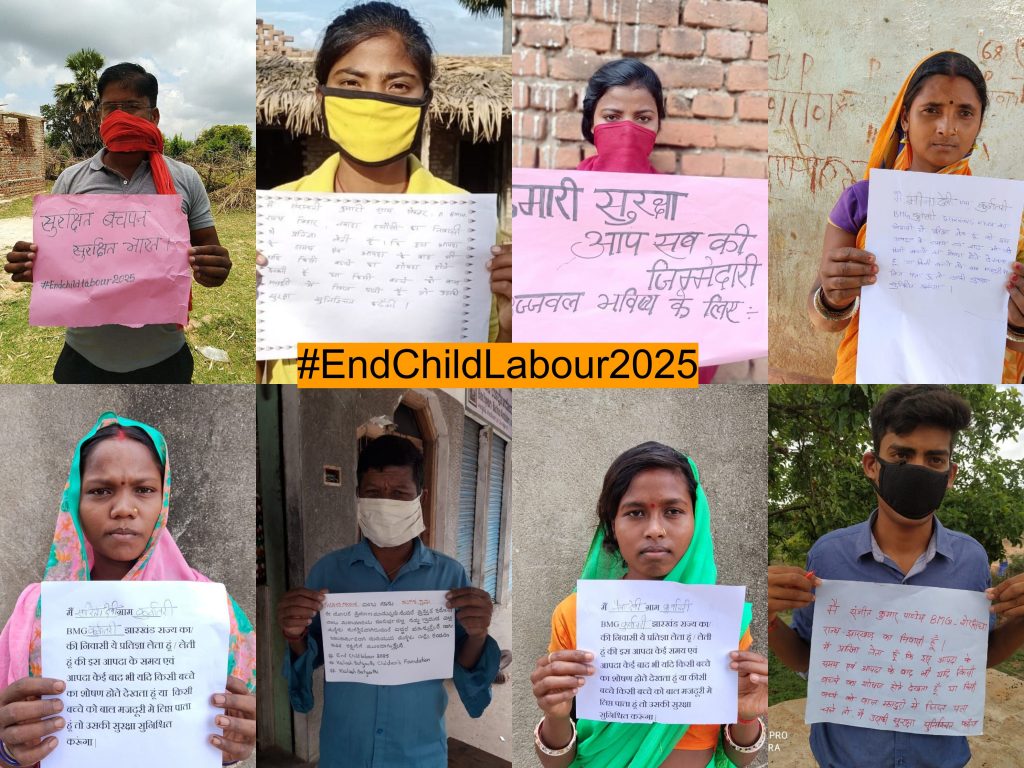 The COVID-19 pandemic has wreaked havoc in the daily lives of communities around the world. The impact on children has been severe and is set to get worse with the economic slowdown making them vulnerable to several forms of exploitation. 

On the World Day against Child Labour, a total of 1721 community members including children from Bal Panchayats across 6 states took a pledge to take responsibility for protecting children in their respective communities from all forms of exploitation by creating a safety net for them during and after the pandemic. 
They also pledged to support Nobel Peace Laureate Kailash Satyarthi's vision to end child labour by 2025.
The global pandemic has made communities vulnerable to economic shocks. This has led to an increase in human rights violation and injustice. 

Our founder and Nobel Peace Laureate Kailash Satyarthi has paved the way for compassion and motivation through 'Badlav Ke Bol', where he hosts weekly online conversations with children from Bal Mitra Gram™ and Bal Mitra Mandal. 
During these sessions, children discuss their initiatives pertaining to ending child marriage, child labour and increasing enrolment in schools in their villages. They also share inspiring stories of successful campaigns collectively run by the community which in turn are shared by Kailash Satyarthi on social media.