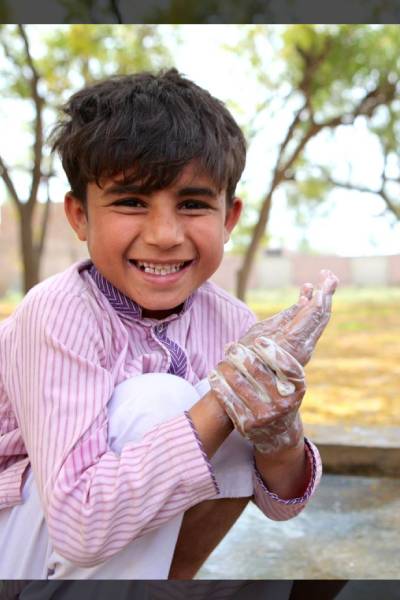 1. What is Kailash Satyarthi Children's Foundation doing to address this issue?
Kailash Satyarthi Children's Foundations innovative and transformative grassroots solution to prevent child exploitation, the Bal Mitra Gram (BMG™) in villages and Bal Mitra Mandal (BMM) in urban slums play a pivotal role to sensitise communities, promote education and address issues related to WASH by organising programmes and undertaking activities to foster good WASH practices. While creating a safety net around children, the BMG™ and BMM models enable all stakeholders including parents to be aware of their rights. Close coordination and constant follow up with district authorities also ensures that projects pertaining to WASH including setting up of toilets for girls in schools and erection and maintenance of hand pumps in villagers remain a priority area. 
2. What is WASH?
WASH refers to safe drinking-water, sanitation and hygiene which are crucial to human health and well-being. Safe WASH is not only a prerequisite to health, but contributes to livelihoods, school attendance and dignity and helps to create resilient communities living in healthy environments.
3. What are the challenges related water, sanitation and hygiene and how many people are affected by it in India?
In India, almost 600 million people do not have access to safe drinking water. Less than 35 per cent of Indians get drinking water in their households, forcing women and adolescent girls in rural areas to travel 3-5 km each day to fetch water. Quality of water is a serious issue. Nearly 34 per cent of Indian states face high levels of water contamination especially in regions with high salinity. 
Open defecation is another challenge especially in rural areas. The government's Swachh Bharat Mission has led to wide-scale building of toilets but the practice of open defecation continues, leading to unclean conditions which increase the risk of illness. 
Another important aspect of WASH (water sanitation and hygiene) is menstrual hygiene. The unhygienic use of sanitary products and their inappropriate disposal, coupled with lack of facilities related to water sanitation and hygiene in India, leads to higher instances of infection in rural Indian women.
4. What are the causes and consequences of water, sanitation and hygiene issues in India?
Poor access to safe drinking water, toilets and poor WASH practices due to poverty, lack of awareness and inaccessibility lead to several WASH related challenges.
Some of the consequences include: 
Poor sanitation is linked to transmission of diseases such as cholera, diarrhoea, dysentery, Hepatitis A, typhoid and polio and exacerbates stunting

Poor sanitation impacts human well-being, social and economic development due to anxiety, risk of sexual assault, and lost educational opportunities

Inadequate sanitation is estimated to cause 4,32,000 diarrhoeal deaths annually and is a major factor in several neglected tropical diseases, including intestinal worms, schistosomiasis, and trachoma. Poor sanitation also contributes to malnutrition
5. What are the laws that support WASH and livelihood of people?
India does not have an umbrella WASH policy but several policies for improved sanitation, clean drinking water, and menstrual hygiene, each focusing on different aspects of WASH (water sanitation and hygiene) have been rolled out.
Government of India's flagship programmes, include Swachh Bharat Mission, National Rural Drinking Water Programme (NRDWP), Jal Jeevan Mission, Atal Bhujal Yojana, Menstrual Hygiene Management, Swach Vidyalaya Abhiyaan etc. (including preschools called 'anganwadis').
6. What can I do to support?
Donate to our program on WASH to help reach out to vulnerable communities 

Raise your voice against lack of safe drinking water, sanitation and hygiene

Follow us on social media

Raise awareness amongst vulnerable communities on good WASH practices