Kailash Satyarthi Children's Foundation (KSCF) envisions a world where all children are free, safe, healthy, receive quality education, and have the opportunity to realise their potential. Founded by Nobel Laureate Kailash Satyarthi, KSCF has been at the forefront of ushering in policy level changes at a national level and developing international conventions on rights of children.
Our Founder
Mr. Kailash Satyarthi is one of the tallest leaders and the loudest voice in the global fight against exploitation of children.
Read more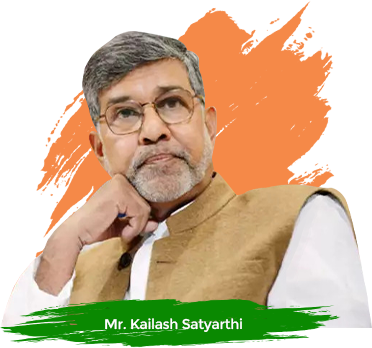 Our Founder
Mr. Kailash Satyarthi is an internationally acclaimed child rights activist from India who has been at the vanguard of the global movement to end child slavery and exploitation of children since 1980. He gave up a lucrative career as an Electrical Engineer for initiating crusade against child servitude.
Read more
THOSE WHO STILL
CAN'T DREAM
CHILD LABOURERS
WORLDWIDE
CHILDREN IN
FORCED LABOUR
Adopt a Bal Mitra Gram and help a community give its children an environment that enables a free, safe and educated childhood
Support a Freedom Fellow
Support survivors of violence and exploitation pursue higher education and realise their potential
Join hands to ensure Justice For Every Child
Ensuring legal and mental health support to child victims of sexual abuse and rape and their families

Children Rescued
Since 1980

Children rehabilitated
Since 2005

Follow Up Done
Since 2017

Monetary campensation
accrued