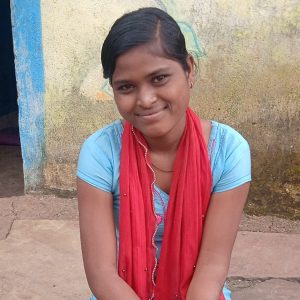 It was a normal day in the life of Malti Sahariya from Ganj Basoda, Madhya Pradesh. No school to attend but scores of household chores to complete. Then somebody told her about some meeting in the village. Not knowing what the buzz was all about, Malti decided to attend the awareness meeting organized in Aurangpur Bal Mitra Gram (BMG) by Kailsah Satyarthi Children;s Foundation with Mahila Mandal. Little did she know that this decision would change her life forever. The meeting was about the adverse effects of Child Marriage on girls and Malti was all ears, carefully overhearing the whole discourse while handling her household responsibilities.
The talks and discussions stirred something in her and she was in two minds about her situation. "At that time I was enrolled in class eleven but was not going to school lately. My parents had decided to marry me off because they had been advised so by the village elders who believed that there is no point in educating girls because educated girls do not find an appropriate match and at 17, I was of the right age for marriage. But that is not what I wanted to do. I wanted to study and help my family break out of the vicious circle of poverty and illiteracy" recalls Malti.
After the meeting, Malti approached KSCF representatives and confided in them about her own child marriage which was scheduled to take place after two months.
The road ahead was rough as the first meeting of a BMG activist with Malti's parents suggested.
Her parents refused to have a conversation and shut the door saying, "this is our private family matter and you are nobody to get involved." Now was the time for Malti to take a stand for herself and she didn't retreat. With passionate and emotional appeals, Malti convinced her parents to stop her marriage till she was ready for it.
Despite abuses and mockery from the village elders, Malti and her parents stayed together to ignore this tirade from their community and neighbourhood.  Malti started concentrating more on her studies and successfully cleared the class 11th and 12th exams.
Now pursuing a graduate degree, Malti has emerged as a true inspiration for her community. She successfully prevented the child marriages of two of her friends and was elected as the Bal Panchayat's Sarpanch of her village. Aspiring to be a Police Officer one day, Malti now interacts confidently with the Govt. officials, village leaders and elders to fight against the social evils in the society and uphold child rights in her village.