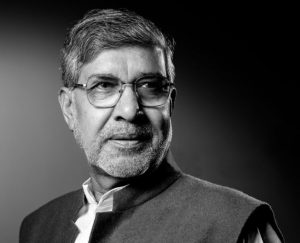 With the organized crime of human trafficking witnessing an unprecedented rise due to the pandemic, Nobel Peace Laureate Kailash Satyarthi has appealed to for urgent passage of the Anti-Trafficking Bill in the upcoming Monsoon Session of the Parliament.  
Expressing "deep concern" at the crisis faced by children and women from the most marginalized and backward sections of society, Shri Kailash Satyarthi has written to Members of Parliament and requested them to ensure passage of the proposed Bill in the upcoming session.  
Shri Satyarthi has also written to Prime Minister Narendra Modi to draw his attention to this organized crime of human trafficking which is putting thousands of lives at risk.  
Since the first lockdown, Kailash Satyarthi Children's Foundation's sister organization Bachpan Bachao Andolan has collaborated with law-enforcement agencies to rescue approximately 9000 children and the arrest of 302 traffickers from trains, buses and factories from across the entire country. Children have thus become the biggest victim of the pandemic with the trafficking of children rising exponentially of late. 
The passage of the Bill will be fulfilment of the demand of 12 Lakh Indians who marched across 22 states and 12,000 kms demanding a strong law against trafficking along with Shri Satyarthi in 2017.
"A strong anti-trafficking law is the moral and constitutional responsibility of our elected leaders, and a necessary step toward nation-building and economic progress. As long as children are bought and sold at lesser cost than cattle, no country can call itself civilised. COVID-19 has caused a rise in trafficking, especially of women and children. We cannot take this lightly. A law for prevention, timely investigation, punishment for traffickers, and the protection and rehabilitation of survivors is a matter of urgency. I call on all parliamentarians to pass a strong & comprehensive anti-trafficking law in the upcoming session of Parliament. Our children, their freedom and dignity cannot wait," Shri Satyarthi observed. 
The Trafficking in Persons (Prevention, Care and Rehabilitation) Bill, 2021 being introduced by the Centre addresses various aspects of trafficking – including prevention, combating the crime including re-trafficking, designating agencies for investigation, special courts for trial, rehabilitation of victims, very effectively and comprehensively and will become a landmark in dealing with this complex crime.
Shri Satyarthi has appealed to all MPs to help wipe out this scourge of human trafficking from our society and make a strong contribution towards the progress of our nation.