Reiterating India's strong resolve to combat human trafficking, Women and Child Development Minister Smriti Irani referred to the proposed Anti-Trafficking Bill and highlighted that for the first time, Government is looking at trafficking in its entirety as an organized crime.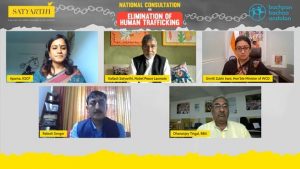 Addressing the National Consultation on Elimination of Human Trafficking organized by Kailash Satyarthi Children's Foundation on the World Day Against Trafficking In Persons on July 30, 2021, organized under the aegis of the Satyarthi Movement, Smriti Irani said, "We are looking at trafficking in its entirety, as an organized crime for the very first time in the country. The Bill will propose a comprehensive list of different forms of trafficking, which are aggravated in nature and accordingly enhance punishment for the same.  Another important aspect would be the issue of mandatory reporting and punishment for those who omit mandatory reporting or neglect to mandatorily report a case of trafficking when it unfolds before them." 
Delivering his inaugural address, Nobel Peace Laureate Kailash Satyarthi described human trafficking as one of the most heinous crimes where price tags are put on people who are sold and traded. 
Stressing on the need for a stringent anti-trafficking law, he said, "I am proud that India is set to take a landmark step in the global fight against human trafficking, with the proposed legislation against human trafficking. A strong anti-trafficking law, supported by a compassionate and vigilant society, is our moral and constitutional responsibility. It is a necessary step toward nation-building and economic progress. Thousands of women and children are waiting for justice and freedom. We must pass this law immediately and set an example for the rest of the world." The Anti-Trafficking Bill is likely to be tabled in the Parliament during the ongoing Monsoon Session. 
Echoing his sentiments, Smriti Irani said that the Ministry of Home Affairs has assured that appropriate amendments to the Indian Penal Code will be made to "compliment the seriousness with which the government proposes the Trafficking Bill". 
Stressing on the proposed provision of mandatory reporting and punishment for those who omit reporting or fail to report a case of trafficking even when they are witness to it, she also went on to highlight certain key provisions of the draft Bill which had been put on public domain on June 30. 
Addressing Kailash Satyarthi's concerns pertaining to "re-victimisation" of victims, she said the new Bill has been drafted with a "victims centric" approach which factors in safety concerns, protection of witnesses besides entitling them to basic benefits, services and lays down measures for further care and compensation.