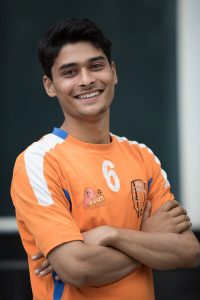 Working as a helper in a restaurant as a child labour,  25-year-old Shubham Rathore – who went on to become an engineer – has now been accepted into the prestigious Young India Fellowship Program by Ashoka University. 
In this free-wheeling conversation with the Satyarthi Movement, he shares his story and narrates how Bachpan Bachao Andolan's intervention changed his life forever…
Q. Shubham, tell us about your journey so far from a child labourer to being an engineer?
A. When I was 13 years old, I was forced to migrate to Mandsaur in Madhya Pradesh from Pratapgarh in Rajasthan owing to my family's weak financial condition to work as a helper in a restaurant. In May 2009, I was rescued from there following a resucue operation by Bachpan Bachao Andolan, the organization founded by Nobel Peace Laureate Kailash Satyarthi, and the local police. I was then brought to Bal Ashram. There I began my education informally for three months and was enrolled in a local government school. During this time, I became aware of my rights and learned to fight and raise my voice against exploitation of children. 
I pursued my dream of becoming an engineer and during my graduation in electrical engineering, I remained active in college with various youth awareness activities which helped me further my leadership skills. The team kept engaging with the college administration and got their support in providing free tuition to children living in the village nearby.  
I also got an opportunity to address the 'Laureates and Leaders for Children Summit' in Jordan, where I urged everyone including business leaders, Nobel laureates and eminent world politicians to ensure implementation of child rights with a zero-tolerance approach.
During course of my work with Power Grid Corporation of India as an Associate Engineer, I have learned how business organizations and their management teams operate and it has helped me with my professional and business management skills.  
Q. Shubham, congratulations on being selected as a youth fellow at the Young India Youth Fellowship of Ashoka University. What motivated you to apply for the same and what do you intend to achieve through this programme?
A. I have applied for this programme to enhance my leadership skills and also to study further with a well-rounded multidisciplinary approach. This will contribute immensely to my work and commitment to various social causes and help me engage deeply and constructively in advocating for child-friendly policies to elicit sustainable and grassroots level change in society.
The fellowship will also allow me to contribute through my diverse experiences and also share my journey of being an advocate for child rights after being freed from child slavery at the age of 13. I strongly believe that the fellowship will also help me to learn so much from my peers and the esteemed faculty, and further hone my skill set to contribute to my life's mission – to fight for the rights of the deprived and the downtrodden.
Q. What message do you have for the youth of the country?
A. Children and youth have enough energy and power to make our society safe and prosperous. Though every hour somewhere or the other a child becomes a victim of violence, it cannot continue to happen forever. I cannot accept this and therefore I urge  the youth of the country to do something for the sake of protecting children and society to make a child-friendly nation and a child-friendly world.