The Bal Mitra Gram (BMG) team distributed bi-cycles to 25 girls from BMGs from Jharkhand, and Uttar Pradesh as part of its intervention to help girls continue their education.  The majority of the BMGs are located in interior parts of the panchayat/ districts with inaccessible terrain and inadequate public transport. The secondary and senior secondary schools are located in block/panchayat headquarters, far away from the BMGs. All these factors together led to girls discontinuing their education after upper primary as they have to travel long distances without any safe commuting options.
To address this challenge, KSCF distributed bicycles to girls from economically weaker families and the ones doing well in academics. Now as the schools are re-opening after a year and a half of lockdown, safe travel is necessary to ensure the children's retention in school.
Therefore, on 6th October 2021, KSCF provided bi-cycles to 14 girls from poor backgrounds from Koderma in Jharkhand and 11 girls from Meerut, Uttar Pradesh. A total of 28 girls from Jharkhand will be given these bi-cycles. 14 more bicycles will be provided to girls from economically weaker backgrounds from Koderma and Giridih districts in Jharkhand on 11 October. 11 cycles were also distributed among meritorious and needy girls of BMGs.
During the bi-cycle distribution  programme attended by 35 members in Koderma, Manish Kumar, Sub- Divisional Magistrate, Koderma was the Chief Guest organised in Bangarkhalar village,  Koderma. Addressing the girls during the programme, Mr. Kumar said "These are not just two wheels of a bicycle but wings to fly and achieve your dreams".
In Meerut, Dr. Amar Singh, Community Health Center (CHC) In-charge, Vaibhav Sharma, Block Resource Coordinator (BRC), Pradeep Kumar, Sub Inspector, and Gram Panchayat President attended the event.
On International Girl Child Day, 30 girls from Karnataka, 50 girls from Madhya Pradesh, and 35 girls from Rajasthan will be provided with the bi-cycles on 11 October 2021.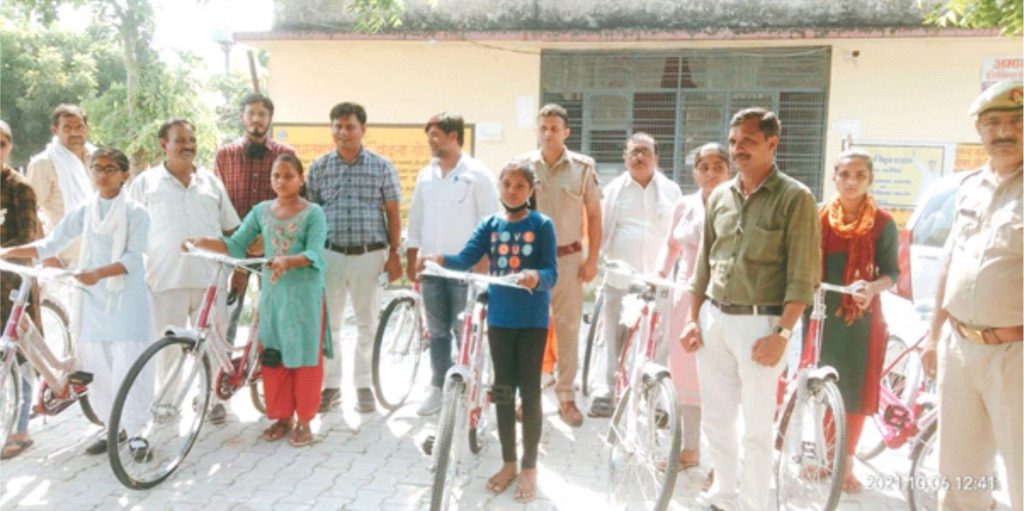 Bicycle distribution in Meerut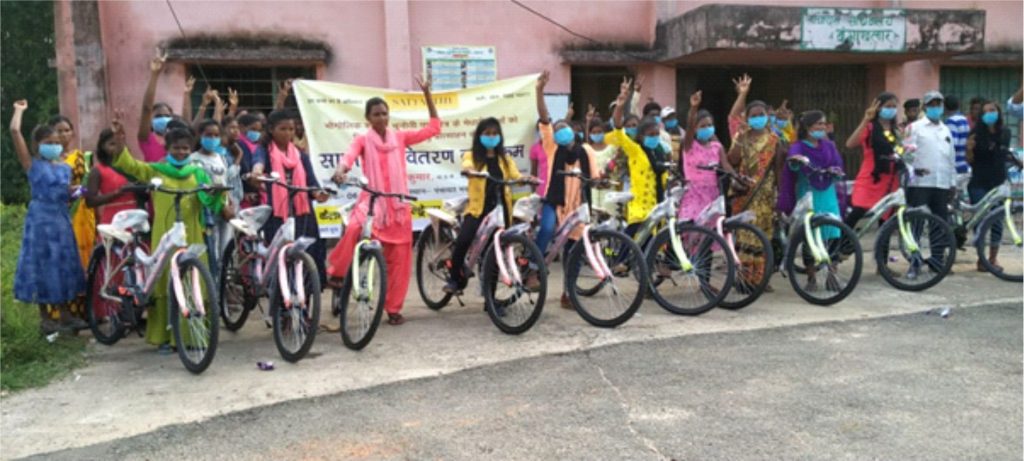 Bicycle distribution in Koderma