KSCF has been working in the remotest villages in the states of Bihar, Jharkhand and Rajasthan to implement its community-owned child protection program called Bal Mitra Gram (BMG) for over a decade. When it began its work with these villages, KSCF realised that scarcity of water resources is a major impediment in ensuring education for children, especially girls. 
Due to acute water shortage, children were forced to drop out of school as they had to travel long distances to fetch water. The problem is even more pronounced in the desert state of Rajasthan owing to the prolonged dry season and minimal rainfall. 
To address this problem, KSCF has adopted a strategy to develop existing water sources in villages and create new infrastructure to ensure access to clean drinking water. This has been done through awareness creation and strengthening of communities to advocate with the need for access to potable water to the local administration.
Between April 2020 and March 2021, 441 water sources were developed in around 49 BMGs across Rajasthan and Jharkhand. Majority of these works were done through grassroots activism carried out with Gram Panchayat, Block Administration and Public Health and Engineering Department (PHED). This was done under MNREGA so that the community gets employment in thee midst of this raging pandemic.
Overall impact:
378 New Hand Pumps Installed

743 Hand Pumps Repaired

34 Overhead Tanks Installed

48 Ponds Dug

26 Well Dug

4 Culverts Created

144 Rain Water Harvesting System Created 

85,050  Individuals Impacted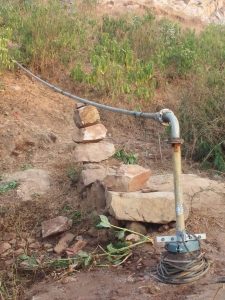 For The First Time, Duharmala Village In Rajasthan Gets Access To Water And School 
Duharmala village is situated on a hill about 4 km above the main road removed from other areas in the the vicinity. 
Until today, there was no source of drinking water in the village and the villagers had to struggle for drinking water. The villagers had never seen electricity in their lifetime and there was no functional school in the village either. They had to go down to the areas below looking for water source during the dry season and move back to the hill during the rainy season. 
But after the intervention of the BMG programme in this village and with continuous follow up and engagement with the Gram Panchayat, a teacher was finally appointed in the local school in July 2019. The old primary school building was renovated and made functional from since August 2019. 
To solve the water crisis, the BMG team appealed to the local MP with the support of the Gram Panchayat requesting for water pipeline to cater to the needs of the villagers. Work on the water connection pipeline finally began and for the first time now the village has its own water supply. 
Thanks To BMG Programme, Topa Pahadi Village In Jharkhand Today Has Safe Drinking Water 
When the BMG programme began in Jharkhand's remote Topa Pahadi village in 2006-2007, acute water scarcity being faced by the villagers came to light forcing women and girls to walk for kilometers to fetch water. 
This struggle to meet daily water requirements had another side effect – the girls were forced to skip classes and eventually drop out of school. However, to prevent children from dropping out of schools, non-formal schools were started by KSCF. Besides this, field staff and stakeholder's groups continued to monitor children to ensure their attendance in the nearby government school.
Alongside, to tide over the problem, KSCF developed a water reservoir with community support in 2007. However, with time, mining activities in the village contaminated the water. The presence of fluoride in the water made it unsafe for consumption. 
To address the issue of contaminated water, KSCF constructed a deep bore well in the village and attached a water tank with a storage capacity of 5,000 lt which was inaugurated on January 25, 2020, in the presence of community leaders. 
Today, this water tank provides water supply to 49 households from Topa Pahadi village, as well as to tribal settlements in the nearby villages of Faguni and Tetariya.